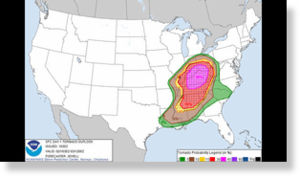 An entire Indiana town may be gone after a tornado ravaged the area in the latest severe storm to strike Friday. The Associated Press reported that the town of Marysville is "completely gone," according to Clark County Sheriff's Department Maj. Chuck Adams. Southern Indiana was walloped by a tornado and authorities are reporting extensive and widespread damage in Henryville, IN, about 20 miles north of Louisville, KY.
A substantial, possible multiple vortex tornado was on the ground near Henryville around 3:30 ET Friday. Affiliate WAVE 3 is reporting one person has died there.
The storm is just the latest in a series of dangerous weather systems that have swept across the eastern part of the U.S. just two days after another storm system killed 13 people in the Midwest.
Search and rescue efforts are under way in two counties in Alabama as more severe weather heads toward Kentucky, Indiana and Ohio. The storm system was taking aim at Lexington, KY, and Cincinnati, OH, on Friday afternoon.
There are "critical" injuries in the Chattanooga, TN, area. Hamilton County Emergency Management report 6-10 people have been transported to local hospitals and that officials set up a triage area to treat patients on-site in Ooltewah, a suburb of Chattanooga.
Nineteen tornado warnings in six states are active.
Rescue workers are searching for possible victims in Limestone and Madison counties in Alabama, which took hits from two tornadoes. Six people in Madison County are injured and have been transported to a local hospital, according to the Alabama Emergency Management Agency.
At least 13 tornadoes touched down in three states around 1:30 p.m. ET, according to preliminary reports from the National Weather Service. Nine of those were in Alabama, leaving at least 50,000 people without power, while two were reported in Tennessee.
Another tornado caused minor damage south of Clinton, IL.
Seventeen states are under threat of major weather.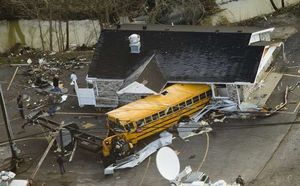 Tornado warnings were issued Friday in Alabama, Georgia, Illinois, Indiana, Kentucky, Missouri, North Carolina, and Tennessee.
In Moores Mill, AL, a tornado caused injuries after people were stuck in rubble from a fallen structure hit by the twister, according to NWS. Cars, trees, power lines and homes were all damaged by the tornado.
The NWS says a tornado touched down in Harvest, AL, and possibly struck a school. Harvest is located north of Huntsville.
The Limestone Correctional Facility in Athens, AL, took a direct hit from a tornado. Department of Corrections spokesman Brian Corbett says they're still assessing the extent of the damage, but no inmates were injured. A perimeter fence, a K-9 kennel and a training facility sustained damage, as well as two inmate cell blocks.
Approximately 300 inmates in those cell blocks will be moved to other dormitories within in the facility as needed.
The facility continued to operate on emergency power as the area was without electricity.
A tornado emergency has been issued for Madison County, AL, where a tornado has caused widespread damage. Madison County emergency managers said in a statement that several houses were "leveled" in one neighborhood in the Walker Lane area, AP reported.
WAFF-TV is reporting that people were trapped in cars in the town of Meridianville. As of 11:44 ET, The NWS Doppler radar continues to report a tornado spinning near Jericho, AL, moving east.
The forecast
As many as 50 to 100 tornadoes might be produced Friday, according to CNN's weather team.
Some of those tornadoes could be long track tornadoes, which stay on the ground longer and do more damage, according to the NWS. Most at risk for these tornadoes are southern Indiana, central Kentucky and parts of Tennessee.
It was a long track tornado that slammed into Tuscaloosa, AL, killing 43 and injuring 800 on April 27, 2011, according to the National Oceanic and Atmospheric Administration (NOAA).
The NWS said the threat of twisters will increase as the day goes on, but most of the areas hit hard by the Leap Day storms only have a 15 percent chance of seeing tornadoes before Friday afternoon.
The storms come two days after 13 people died in 35 twisters across several states.
Bracing for yet another round of storms, parts of Tennessee are still battered and reeling from Wednesday's tornado touchdowns in Cumberland and DeKalb counties that killed three.
In Illinois, six people died after an EF-4 tornado hit the southern town of Harrisburg. Three people were killed after storms and tornadoes ravaged Missouri and one died from injuries after a tornado in Kansas.
The Red Cross is one of many organizations reaching out to victims in Illinois, Kentucky, Indiana, Tennessee and Missouri. They plan to continue providing food and shelter through the predicted storms.
"Pick a safe place in your home or apartment building where household members and pets can gather during a tornado," said Rick Bissell, a member of the American Red Cross Scientific Advisory Council and chair of the Preparedness Sub-Council. "Use a basement, storm cellar or an interior room on the lowest floor with no windows."