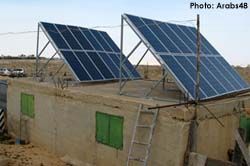 The Israeli occupation authorities have issued notice of their intention to demolish a renewable energy project which generates electricity and represents the only source of lighting for the houses in a Palestinian village near Hebron in the occupied West Bank. The people of Al-Mnazel received the demolition notice advising of Israel's plans to destroy the solar panels which provide them with electricity. The project was established a couple of years ago with funds from the Spanish government.
The coordinator of the People's Committees in the district, Rateb Al-Jabour, told the media that the project provides more than 40 Palestinian families with electricity. He warned that the project's destruction by the Israeli "Civil Administration", "will take the village back to the stone age".
Mr. Al-Jabour added that the Israeli occupation authorities have also given Khalil Al-Nwaja', who lives in Al-Mnazel, notice that his home will be demolished. The tents and caravans, claim the Israelis, do not have a licence.
.