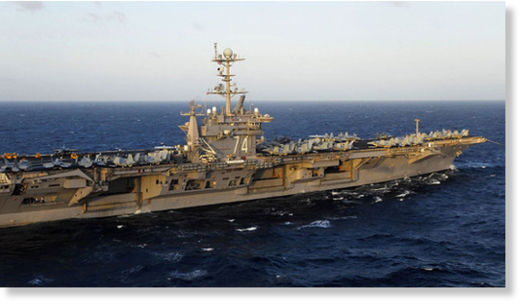 A senior Iranian Army commander has warned the U.S. Navy not to move an aircraft carrier which left the Persian Gulf during Iran's recent military drills back into the body of water which forms much of Iran's southern border.
According to the Reuters news agency, army chief Ataollah Salehi suggested to the IRNA network on Tuesday that Iran would take unspecified action if the carrier returned to Gulf waters.
The USS
John C. Stennis
and another U.S. Naval vessel headed out of the Gulf and through the Strait of Hormuz last Tuesday after a visit to Dubai.
"Iran will not repeat its warning ... the enemy's carrier has been moved to the Sea of Oman because of our drill. I recommend and emphasize to the American carrier not to return to the Persian Gulf," Salehi reportedly told IRNA.
"I advise, recommend and warn them (the Americans) over the return of this carrier to the Persian Gulf because we are not in the habit of warning more than once," Salehi told the semi-official Fars news agency, according to Reuters.
The U.S. Naval Forces Central Command would not immediately comment on Salehi's comments, or say whether the timing of the carrier's relocation was in any way linked to Iran's 10-day drills, which ended on Monday.
The U.S. Navy's Fifth Fleet, based across the Gulf from Iran in Bahrain, had as many as five aircraft carriers in its ranks at the height of the war in Iraq, but that number has reportedly been reduced as the American presence in Iraq dwindled.
The last U.S. combat forces pulled out of Iraq just days before Christmas. Iran's military drills began on Christmas Eve.
Iran's warning comes after more than a week of heightened tension in the Gulf resulting from the Islamic Republic's military drills, and an early warning from the regime that any international effort to sanction Iran's oil exports would be met with the closure of the vital Strait of Hormuz.
About 40 percent of the world's oil supply is shipped through the strait, from the Persian Gulf into the Gulf of Oman and onto the rest of the world.
Iran's hypothetical threat to close the strait with military power drew sharp a rebuke from the United States, with the Fifth Fleet vowing to protect the passage of shipping through the channel.
Various Iranian officials backed away from the threat in the following days as the military drills continued. But tension remains high in the wake of the drills - which saw Iran test fire a number of medium and long-range missiles - over both the security of the vital shipping passage, and Iran's contentious nuclear program.