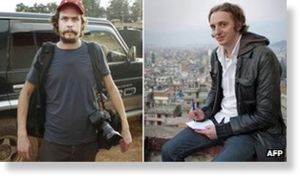 Two Swedish journalists have been jailed for 11 years in Ethiopia for entering the country illegally and supporting terrorism.
Martin Schibbye and Johan Persson were detained in July after they were captured in Ethiopia with rebels from the Ogaden National Liberation Front (ONLF).
The men were found guilty of the charges last week.
They say they were just doing their jobs as journalists.
Prosecutors had asked for longer sentences of up to 18 years, but Judge Shemsu Sirgaga, who presided in the case, said 11 years was appropriate.
"This sentence should satisfy the goal of peace and security," the AFP news agency quoted him as saying.
A lawyer for the journalists, Abebe Balcha, said they would decide later this week whether to appeal.
"I am not satisfied, as a lawyer for the defendants - I do not agree with the decision," he said.
The convictions of Schibbye and Persson have been heavily criticised by human rights groups and the Swedish government.
"Our starting point is and remains that they have been in the country on a journalistic mission. They should be freed as soon as possible and be able to rejoin their families," said Swedish Prime Minister Fredrik Reinfeldt after the men were found guilty.
Human rights group Amnesty International said the journalists had been prosecuted for doing "legitimate work".
Closed region
Schibbye and Persson were captured by Ethiopian troops during a clash with ONLF fighters on 1 July.
The men acknowledged during their trial that they had held talks with ONLF leaders in London and Nairobi, before entering Ethiopia from Somalia and meeting about 20 members of the group 40km (25 miles) from the border.
However, they say their contacts with the ONLF were intended to help them to get into a region the Ethiopian authorities will not allow journalists to enter.
They say they wanted to report on the activities of a Swedish oil company, Lundin Petroleum, in the Ogaden.
Both men denied terrorism charges including claims that they had been given weapons training.
Rebels in the Ogaden region have been fighting for independence since the 1970s and the ONLF has been at the forefront of the fight since it was founded in 1984.
The Ogaden is an ethnic Somali part of Ethiopia.
One ONLF faction signed a peace deal with the government last year, but another splinter group has continued to fight the army.
Rights groups accuse Ethiopia of trying to cover up abuses by troops in the region.