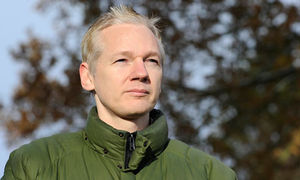 Julian Assange, the founder of the WikiLeaks, won a new reprieve on Friday when the Supreme Court here agreed to hear his appeal on an order extraditing him to Sweden to answer accusations of sexual misbehavior.
In the latest maneuver in a legal battle that has lasted over a year, the Supreme Court set his appeal date for February. If the Supreme Court rejects his argument, Mr. Assange will still be able to appeal to the European Court of Human Rights in Strasbourg, according to a statement by Britain's Crown Prosecution Service, acting for the Swedish prosecutors' office. If that court declined to take the case, he would be returned to Sweden.
Mr. Assange has been living under house arrest at a friend's country mansion in eastern England as the case grinds along. In earlier hearings, his lawyers claimed that sending him to Sweden would be "unfair and unlawful." But three lower courts approved the extradition. The statement from the Supreme Court on Friday said a panel of three senior judges had "granted permission to appeal and a hearing has been scheduled for two days, beginning on February 1, 2012."
Seven judges would hear Mr. Assange's appeal, the statement said, "given the great public importance of the issue raised."
The appeal will revolve around whether the Swedish public prosecutor has the legal power to seek Mr. Assange's extradition. His lawyers maintain that public prosecutors are not judicial authorities and are therefore not entitled to sign arrest warrants.
The Supreme Court ruling was made public on the same day that Bradley Manning made his first appearance in a military courtroom at Fort Meade, Md. An Army private, he is accused of leaking the classified American documents that became the most famous of the WikiLeaks disclosures. Prosecutors have charged him with aiding the enemy and violating the Espionage Act by providing Mr. Assange's organization with hundreds of thousands of confidential diplomatic cables, military field reports and war videos.
Last year, WikiLeaks' release of the documents dominated the front pages of newspapers across the world, including
The New York Times
. Mr. Assange depicted those releases as a means of seeking publicity for documents he hoped would reshape the very nature of government.
But in August 2010, as he rode a wave of celebrity, he was accused of sexual molesting, unlawful coercion and rape by two WikiLeaks volunteers in Stockholm who said that consensual encounters with Mr. Assange became nonconsensual.
Mr. Assange appeared for an initial interview with the police there that month, but fled to London before further questioning could be completed, a court here was subsequently told.
Swedish prosecutors decided to issue an Interpol red notice and a European arrest warrant to compel him to return last December but Mr. Assange, who denies the charges, has fought the warrants at every turn.
He was briefly jailed a year ago, before being released on bail and placed under house arrest at the country mansion in eastern England.
Protesters and celebrity supporters - including the socialites Jemima Khan and Bianca Jagger and the journalist John Pilger - have often represented the case as a battle for free speech. Mr. Assange himself has suggested that government forces might be behind the accusations of sexual wrongdoing as a means of silencing him.
A spokesman for Mr. Assange did not immediately return a message seeking comment.