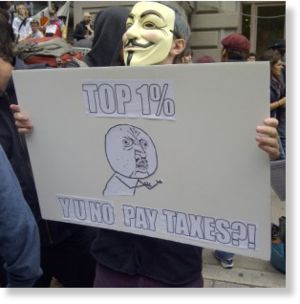 Occupy Wall Street protesters hope to rebound on Thursday with a rally at the New York Stock Exchange to show their battle against economic inequality has life after they were evicted from a downtown park.
Rallies by the two-month-old movement have numbered in the hundreds of people in New York but the protesters and city officials said they expect thousands of people to pour into the Wall Street area from 7 a.m.
It will be a test of whether Occupy Wall Street and the loosely knit global alliance it inspired will flag or get a boost after the police cleared a camp of several hundred protesters from Zuccotti Park in lower Manhattan on Tuesday.
"This movement is really not about tents as much as it is about an idea and we're keeping the idea through a number of direct action things planned" for Thursday, said spokesman Ed Needham. "There's also going to be events in 100 countries around the world tomorrow."
Occupy Wall Street plans to shut down the home of the New York Stock Exchange and the heart of American capitalism with a street carnival that kicks off a day of protests.
"We are certainly anticipating tens of thousands of people protesting, aimed at significant disruption of the daily lives of people of this city," Howard Wolfson, New York's deputy mayor, told reporters.
"We take it seriously," he said. "Our forces will be deployed accordingly."
Ensuring the constitutional rights of the protesters to free speech and freedom of assembly was "critically important," Wolfson said, "but we will also ensure public safety."
After the police raid and a cleaning of Zuccotti Park, protesters were allowed to return but were banned from setting up camp again. Numbers dwindled to less than two dozen overnight on Wednesday.
"We're going to occupy this park for a long time," said Jason Holmza, 30, of Washington State. "Right now we've got to figure out where to turn our attention to."
Protesters say they are upset that billions of dollars in bailouts given to banks during the recession allowed a return to huge profits while average Americans have had no relief from high unemployment and a struggling economy.
They also believe the richest 1 percent of Americans do not pay their fair share of taxes.
Protesters set up camp in Zuccotti Park on September 17 and it became the epicenter for the movement, sparking rallies and occupations of public spaces across the United States and elsewhere in the world.
The clearing of the New York park followed recent evictions in Atlanta, Portland and Salt Lake City. Unlike action in Oakland, California, where police used tear gas and stun grenades, most protesters left voluntarily.
"I was dismayed by the number of people who stayed," said Sam DeLily, 23, from the New York borough of Queens. "I was disappointed that more people didn't realize we'd need a show of support last night more than ever."
A couple of dozen protesters took refuge at two Manhattan churches that offered them a place to sleep, while Occupy Wall Street's Needham said hundreds more were put up by New Yorkers who offered their homes.