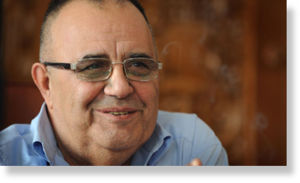 An inscription on a cup depicting rakiya - a traditional form of brandy - said to date from the 14th century CE is proof that Bulgarians invented the drink, National History Museum director Bozhidar Dimitrov said on October 10 2011.
The cup with the inscription was found during excavation work at the Trapezitsa peak near Veliko Turnovo, Dimitrov said, quoted by local news agency Focus.
He said that the find was "sensational" because it was proof that rakiya was invented in Bulgaria.
A photo of the archaeological finding is to be sent to the Ministry of Agriculture and Food, which has been trying to register rakiya as a national product at the European Commission.
"At first sight, it is nothing special, except that so far it was believed that rakiya was invented in the world in the 16th century. The inscription that has been found shows that the Bulgarians in the capital Veliko Turnovo used to drink it about 200 years earlier," Dimitrov said.