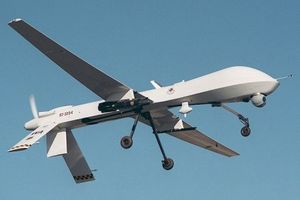 A non-UN-sanctioned US drone strike has left at least four people dead in northwest Pakistan near the Afghan border, Pakistani officials say.
The US unmanned aircraft targeted a vehicle near Darpa Khel village, which is located about four kilometers (two miles) west of Miranshah, the main town in the district of North Waziristan, AFP quoted local officials as saying on Friday.
This is the third drone attack by US forces near the Afghanistan-Pakistan border region in 48 hours.
The incident comes as at least 12 people lost their lives in two separate strikes in North Waziristan.
Hundreds of Pakistanis have been killed in illegal US drone strikes in recent years.
The US regularly uses unmanned aircraft to carry out attacks on Pakistan's tribal regions, claiming that the airstrikes target pro-Taliban militants.
Locals say civilians are the main victims of the non-UN-sanctioned US strikes.
The aerial attacks, initiated by former US President George W. Bush,
have escalated under President Barack Obama
.
Relations between Islamabad and Washington have soured over the unauthorized attacks, with Pakistan insisting that the airstrikes violate its sovereignty.
Islamabad has repeatedly condemned the airstrikes, which have fuelled anti-US sentiment among the Pakistani public.
Pakistan's Ministry of Human Rights has reportedly asked the government to complain about the 'extra-judicial killings' to the UN and other international bodies.