We're following this breaking news as it comes in. Scroll down for updates.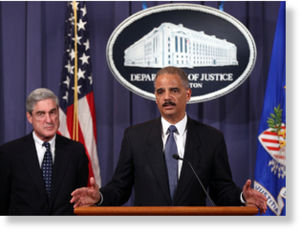 An Iranian-directed plan to assassinate the Saudi ambassador to the U.S. and possibly attack the Saudi and Israeli embassies in Washington has been disrupted, Justice Department officials announced this afternoon.
Saying that the alleged "deadly plot ... [was] directed by factions of the Iranian government" and involved an attempt to hire killers from a Mexican drug cartel, Attorney General Eric Holder also said Iran will be held to account.
The criminal complaint "filed today in the Southern District of New York," Justice says, "charges Manssor Arbabsiar, a 56-year-old naturalized U.S. citizen holding both Iranian and U.S. passports, and Gholam Shakuri, an Iran-based member of Iran's Qods Force," in the scheme. Among the charges against them:
"Conspiracy to engage in foreign travel and use of interstate and foreign commerce facilities in the commission of murder-for-hire; conspiracy to use a weapon of mass destruction (explosives); and conspiracy to commit an act of international terrorism transcending national boundaries."
Update at 3:45 p.m. ET. Some In Iran May Want To Provoke An Attack:
If the allegations are true and Iran's "top special forces" were involved in directing the plan, then the scheme could go all the way to Iran's Supreme Leader, says Richard Clarke, a top White House counterterrrorism adviser in the Clinton and Bush administrations. And, he adds, "ultimately [Iran] had to believe we would find out they were behind it ... and would attack them militarily." That, he tells NPR's Guy Raz, "suggests, if true, that they're looking for a fight."
Clarke suggests that if the allegations are correct, "there may be elements inside Iran that think it would be good for them in terms of domestic politics for there to be a fight with the United States." A U.S. strike on Iran might, he says, might boost support for Iran's leaders as people there "rally around the flag."
Clarke adds, though, that this is "a really strange plot." Iranian secret services, "are very professional," he says. "To hire some Mexican drug gang so indirectly" strikes him as highly unusual.
Much more from Clarke's conversation with Guy will be on today's
All Things Considered
. Click
here
to find an NPR station that broadcasts or streams the show.
Scroll down to the bottom of
this page
, for other updates.