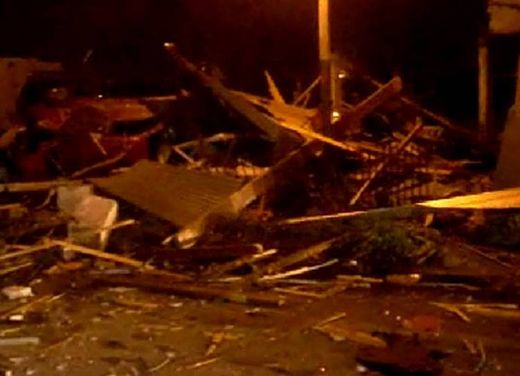 Mystery explosion and Esteban Echeverría, "a ball of fire fell from heaven"
One woman died and six others were injured in the incident. A neighbor said the outbreak was caused by a burning object that fell from the sky and completely destroyed a house and several cars. "It was a tremor," he said. Are the causes of the accident.
The incident occurred minutes before 2 am, in a building located on the intersection of Luis Vernet and Los Andes, a town of Monte Grande, of Esteban Echeverría. The causes of the explosion are still unknown, but locals say they witnessed the fact that "a ball of fire fell from heaven." "He began to feel much smell like gunpowder," recalled one person who lives in the area told C5N. "There is no explanation for what happened," said Cayetano, a local resident, told Radio 10, then adding, "a neighbor ran because he saw a fireball falling blue." The commander of the local fire department, Guillermo Pérez, remarked that still do not know the cause of the incident, but acknowledged that the first version is aimed at an "object that fell from heaven." "I heard that version, but I can not say at first. Must be bound to expertise to really see what happened, "he said in a statement to Radio 10. Perez confirmed that two trade houses and" were completely destroyed. "In fact, a woman who was trapped under the rubble lost life while six others were rescued and were taken for care at a local hospital, told C5N firefighters who work on site.
The victim is one of the people who lived in the building where the explosion was generated. As the injured, three belong to that house and three adjoining the house, hit by the blast. All the injured were out of danger, said C5N. According to the story of neighbors, the outbreak was felt even in adjoining towns like Ezeiza and Temperley, south of Buenos Aires.