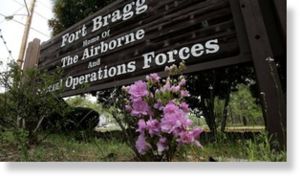 Two male soldiers have been taken into custody at Fort Bragg, North Carolina in connection with the disappearance of roughly 14,000 rounds of ammunition reported missing at the Army base on Wednesday morning, officials said on Saturday.
Military police would not release the names or ranks of the soldiers in custody.
The missing 5.56 millimeter ammunition is valued at about $3,600 and "can be purchased at any Wal-Mart," according to an official familiar with the investigation who spoke to Reuters only on condition of anonymity.
Ammunition handlers from the 82nd Airborne Division's 1st Brigade Combat Team reported the missing rounds, said division spokesman Staff Sergeant Joshua Ford.
The combat team uses the ammunition in the M4 carbine and M16 assault rifle, Ford said.
The 1st Brigade Combat Team was placed on lock-down for a few hours Wednesday night while officials searched for the ammunition, Ford said.
The investigation into the missing ammunition is ongoing, Ford said on Saturday, declining to elaborate.