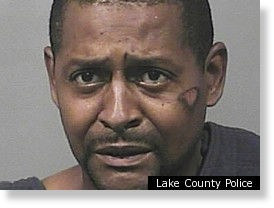 A man was found walking along the inner shoulder of I-65 in Indiana on Sunday afternoon around 2:30 p.m. He was not far from his abandoned white Toyota, which was still in the middle lane of the interstate. Indiana Police State Trooper Ricky Rayner found the car, and then he quickly spotted the man.
"The man was marching like a drum major, holding the sword, moving it up and down in rhythm with his marching cadence," State Police said.
Nicknamed the "Shirtless Samurai," the man was wearing only a pair of shorts and slip-on shoes, carrying a 35-inch samurai sword. He was later identified as 42-year-old Cicero resident Bryon Womack.
When Rayner approached Womack, he swung his sword at the trooper, but when Rayner told him to put it down, Womack obeyed the officer. Before Rayner could arrest him, Womack tried to carjack a still-moving Chevrolet SUV. The driver then swerved onto the shoulder to avoid injuring the man and the Merrillville police vehicle quickly approaching them.
The police officer then ordered the man to the ground at gunpoint, handcuffed him and took him to the Lake County jail.
When Womack was booked and questioned, he said he was, "Cuckoo for Cocoa Puffs," but he gave no relevant information regarding his actions.
The police charged him with attempted carjacking, resisting law enforcement and marijuana possession.