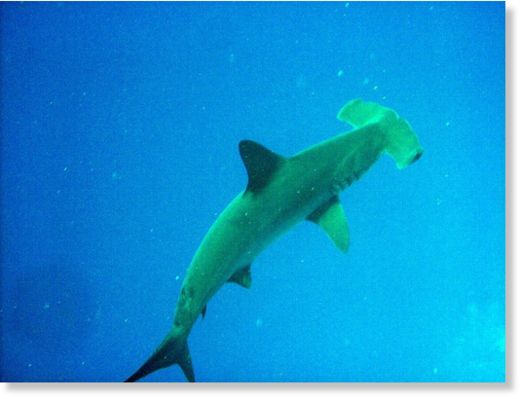 The Russian word for shark is "akoohlah," which will be useful for tourists swimming on the country's Pacific coast, in the Sea of Japan. Two people were attacked by sharks in the Far Eastern Primorye Territory in a 24-hour period.
In the first case, a 16-year-old swimming around the Zheltukhina island on Wednesday was bitten in the leg. He is recovering in a Vladivostok hospital.
"The young man's flippers and wetsuit saved him from death. Some 20 meters off the coast, the shark grabbed the man's legs, but the wetsuit served as a protective covering," doctors told Russian daily
RIA Novosti
.
Another man near Vityaz village had both his arms bit off by a rogue shark. The 25-year-old was about 30 miles from the location of the first incident, and according to reports, he fought off the animal to protect his wife.
He is undergoing surgery in Khasan Central District Hospital.
Shark attacks are extremely rare in Russia, and the Emergencies Ministry immediately issued a statement aiming to educate swimmers on how to fend off the deadly fish.
"If a shark is trying to attack you, fight it off with anything at hand. Aim for the eyes and gills," a statement from the ministry said.
The agency went on to say that no one should be swimming in the area, especially if they are cut or bleeding.
While authorities aren't certain what type of sharks were involved, they suspect that the attacks were by hammerhead sharks. Russia has never needed to protect its beaches from shark attacks in the past, and scientists believe that the animals migrated north from warmer waters, perhaps in the tropic.
"It came here with warm currents from the southern seas," World Wildlife Foundation expert Konstantin Zgurovsky told
Kyiv Post
. "It might have migrated there following fish stocks or squid."
The word for Jaws is
cheloostey
, although that's a literal translation.