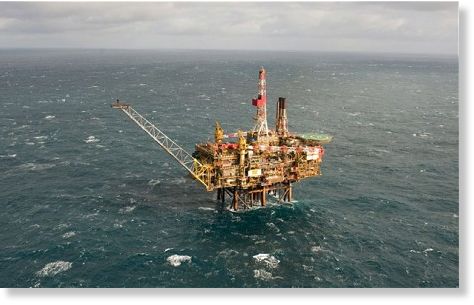 An oil spill from a Shell platform has become the worst in the North Sea in a decade, it was disclosed last night.
Government figures show that the 216 tonnes of oil which have already entered the water have exceeded the annual totals for the area for the last ten years.
Environmentalists said the light crude oil posed a "serious risk" for thousands of young birds, including puffins and guillemots, if they came into contact with it.
Oil began to escape from part of the
Gannet Alpha
drilling rig about 112 miles east of Aberdeen last Wednesday.
Engineers have slowed the leak but have so far failed to totally stop it, with the equivalent of around five barrels a day continuing to escape.
It is very small compared to the BP oil spill in the Gulf of Mexico last year, in which 4.9 million barrels of oil escaped at a maximum rate of around 62,000 barrels a day.
However, according to figures from the Department of Energy and Climate Change the North Sea incident exceeds the annual totals for the area for the last decade.
A sheen of oil on the surface has been produced which is around a third of a mile long.
A spokesman for Shell said high winds and heavy waves had already substantially broken up parts of the spill, which was further expected to dissipate in the coming days.
Glen Cayley, the technical director of Shell's exploration and production activities in Europe, said: "This is a significant spill in the context of annual amounts of oil spilled in the North Sea.
"We care about the environment and we regret that the spill happened. We have taken it very seriously and responded promptly to it.
"The high winds and waves over the weekend have led to a substantial reduction in the size of the oil sheen as can be seen from the current levels on the water.
"We continue to expect that the oil sheen will disperse due to wave action and that it will not reach the shore."
Stuart Housden, the director of RSPB Scotland, said:
"Oil of any amount, if in the wrong place, at the wrong time, can have a devastating impact on marine life."