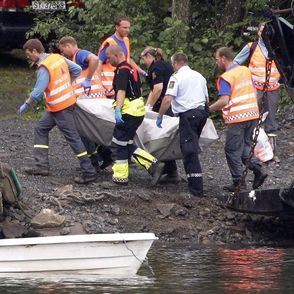 Massacre suspect Anders Breivik lived in London as a small boy, where his father was a diplomat at the Norwegian embassy, it has emerged.
His shocked father Jens, told Norwegian newspaper
VG
that they lost touch in 1995, but that it was his son who wanted to cut off contact.
"We've never lived together, but we had some contact in his childhood," said Mr Breivik, who is now retired and living in France.
"When he was young he was an ordinary boy, but reclusive. He wasn't interested in politics at the time."
Mr Breivik said he learned about the massacre on the internet. "I was reading online newspapers and then I suddenly saw his name and picture on the net," he told
VG
. "It was a shock to find out. I haven't gotten over it yet."
Breivik's mother lives in an ivy-covered brick apartment building in western Oslo, currently protected by police. Neighbours said they had not seen her since a few days before the shooting. Police said they had spoken to her and that she did not know of her son's plans.
In his in his 1,500-page manifesto, Breivik called his upbringing in a middle-class home in Oslo privileged, even though his parents divorced when he was one and he lost contact with his father in his teens.
His parents split up when the family lived in London. A spokesman for the Norwegian embassy, Stein Iversen, confirmed that Jens Breivik was employed at the embassy in the late 1970s.
Breivik said both parents supported Norway's centre-left Labour Party, which he viewed as infiltrated by Marxists. In his manifesto, Breivik said he had no negative experiences from his childhood, though he had issues with his mother being a "moderate feminist".
"I do not approve of the super-liberal, matriarchal upbringing though as it completely lacked discipline and has contributed to feminise me to a certain degree," he said.