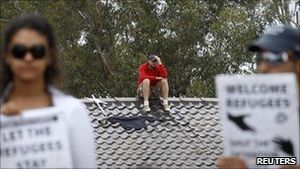 Australian police have clashed with asylum seekers at the Christmas Island detention centre for a second night, firing tear gas and "bean-bag bullets".
Immigration Minister Chris Bowen said up to 40 detainees had "engaged in vandalism and violence" at the centre.
Refugee rights groups said about 10 asylum seekers had held a roof-top protest, setting fire to sheets.
The UN has criticized Australia for holding all asylum seekers while their applications are assessed.
The migrants are held for months at the Christmas Island center, about 1,500 miles (2,400km) from the Australian mainland, and other facilities.
Many have expressed frustration at long delays and overcrowding.
This week's violence comes weeks after another outbreak of rioting at the Christmas Island centre.
"This sort of activity is completely inappropriate, it is way out of line with the expectations of the Australian people," Mr Bowen said.
"Undertaking this sort of activity is achieving nothing except potentially their release from detention and transfer into a prison."
At least 30 detainees have been charged for last month's riots and a separate outbreak of unrest at Sydney's Villawood detention centre in April.
Ian Rintoul from the rights group Refugee Action Coalition said he had been told about 10 men had been on the roof, and small fires had been lit at the complex.
"Many of the people involved in the protest both last night and tonight are people who've only been there six or seven months, but like the others are facing the consequences of delays in their processing," he told ABC News.
There are about 4,000 people currently in immigration detention in Australia, including children.