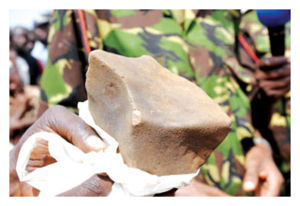 Panic hit a village in Kabati area in Thika District after a black object fell from the skies causing a loud explosion.
The incident, which happened on Saturday at 9am, drew attention from military personnel and bomb experts. They said the mysterious object weighed two kilograms.
According to an eyewitness Felister Muthoni Kafuri, the object was black and smooth and cracked due impact.
"We hard a loud sound before the object fell in the farm. Some of the villagers touched the object while others kept off. When the military came to retrieve the object they advised those who had touched the object to wash their hands," said Muthoni.
Some locals said the objects impact was heard about 5 kilometers away when it hit the ground.Police who arrived at the scene could not immediately tell what the object was.
They summoned officials from the meteorological department to ascertain the object but could not tell what it was.
Head of bomb disposal unit Criminal Investigations Department headquarters Eliud Langat said they were yet to establish what it was.