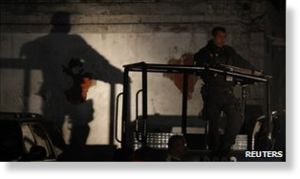 The decapitated bodies of three women and seven men have been found in an abandoned lorry in the northern Mexican city of Torreon, police say.
One head was found on the windscreen. The others were dumped by the roadside, along with threatening messages.
They were found after a night of violence across northern Mexico.
National Security Spokesman Alejandro Poire attributed the beheadings to a battle between two drugs gangs, the Zetas and the Sinaloa cartel.
Police said the 10 had probably been killed a few days back, as the bodies were showing signs of decomposition.
During the previous night at least 40 people were killed in suspected drug-related violence.
Mr Poire said the government was not letting up in its fight against the drug cartels. "The violence won't stop if we stop battling criminals," he said.
In January, the government of President Felipe Calderon said more than 34,000 people had been killed in a four-year offensive against drug gangs.
The figure is believed to have risen considerably since then.