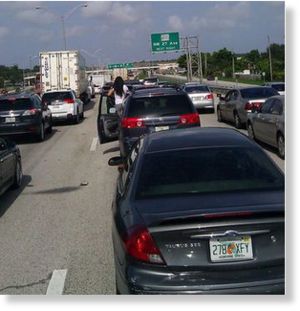 One mystery was solved when police arrested the tattooed man who left his fake-weapons-laden hearse under the Palmetto. Other questions - like 'why?' - remained.
Was it a faux terrorist plot? A malicious prank? Performance art?
One man knows for sure - and he is sitting in jail Sunday while waiting for a mental health evaluation, days after a bizarre episode in which a hearse, abandoned underneath the Palmetto Expressway at Northwest 27th Avenue, brought rush-hour traffic to a standstill for more than five hours.
Lee Lewis, 28, who bills himself on his MySpace page as a fetish model and fireplay entertainer, was being held at a downtown Miami detention center Sunday on $36,500 bond.
The state requested the mental health evaluation Sunday after police found Lewis' tricked-out hearse, festooned with silver skulls and outfitted with green undercarriage lighting under the Palmetto on Friday afternoon. The officers thought they spotted automatic weapons, an anti-tank rocket and other explosives inside - and immediately closed the road to cars and pedestrians. The Miami-Dade bomb squad rushed to the scene.
The following day, an investigation found that the weapons were bogus.
"They were good replicas," Miami Gardens Police Chief Matthew Boyd said Saturday. "But they were fake."
Lewis turned himself in Saturday morning, Boyd said.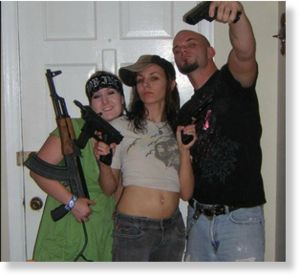 During a Sunday bond hearing, Judge Martin Shapiro set the bonds at $30,000 for possession of ammunition by a convicted felon, $5,000 for possession of a controlled substance (methadone), $1,000 for possession with intent and $500 for a misdemeanor of driving with a suspended license.
The Judge also ordered Lewis to a mental health evaluation.
"My mental health doesn't matter," Lewis said at the hearing. "Everything is getting dropped and I'm suing everybody."
Lewis, who lives in Hollywood, has been arrested multiple times. In 2001, he pleaded no contest to battery charges. Between 2006 and 2008, he served a stretch in a Miami-Dade prison for grand theft and drug possession.
Exactly why he had an arsenal of fake weapons in his hearse wasn't clear. The heavily tattooed and sculpted artist has pictures of himself performing tricks with fire and posing with swords and what appear to be handguns and automatic weapons.
Lewis also has an online photo gallery of his hearse. Detail shots show silver skulls with red lights for eyes on the back of the vehicle. Nighttime photographs feature the undercarriage lights and the rear window glowing neon green.
According to police, the hearse broke down Friday afternoon on Northwest 27th Avenue, right underneath the Palmetto and not far from a gas station.
Witnesses told police they saw a tattooed man matching Lewis's description get out of the car, check underneath the hood and walk away.
It wasn't long before Miami Gardens officers were called to check out an abandoned vehicle. When officers peered inside - and saw what looked like weapons and explosives - they decided not to take any chances.
They shut down the street and called the Miami-Dade bomb squad.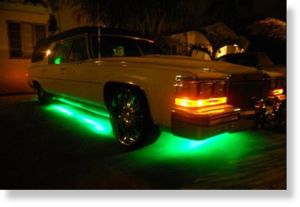 "You have a white male in a predominantly African-American community leaving a hearse under a busy road during rush hour and there's an arsenal like that," Boyd said. "When you consider all the factors, in this day and age, [the officers] had no other choice."
Police closed the Palmetto in both directions from Northwest 17th to 37th avenues, halting traffic during the Friday afternoon rush hour. Traffic also came to a crawl on I-95 and the Florida Turnpike.
Homes and businesses in the neighborhood were evacuated.
Meanwhile, a bomb squad robot inspected the vehicle, methodically removing weapons, bags and packages from the hearse.
The investigation continued until well after the sun had set. Detectives had to truck in a giant spotlight.
The Palmetto wasn't reopened until after 10 p.m. - more than five hours after the ordeal had begun.
The hearse was later towed away, Boyd said.
At first glance, it appeared police had found at least three automatic weapons and a military-issue anti-tank weapon inside the vehicle, Boyd said. But with some help from the Bureau of Alcohol, Tobacco, Firearms and Explosives, investigators concluded the weapons were replicas.
There were no explosives in the vehicle.
"We took this very seriously," Boyd said. "The way it's going in America with home-grown terrorists, we have to deal with threats like this the best we can."
That night, police put out a flier calling Lewis a person of interest. The leaflet warned that Lewis was considered to be armed and dangerous.
Lewis paints a different picture of himself on his Facebook page.
A self-proclaimed follower of Wicca, he writes about frequent meditation and the importance of having a strong core. His hobbies include reading fiction and watching the sitcoms
Friends
and
My Name is Earl
.
His self-description: "I'm an easygoing guy, hard to anger but watch out when that occasion rises. I'm passionate. I keep my good friends close. I'm loyal, loving and almost always fun. I believe in enjoying life to the fullest, and I partake in anything that's fulfilling and creative."
Jessica Wilpon, a friend, said Lewis wouldn't have just left his car on the side of the road. He loves that hearse, she said.
And though Lewis once collected swords, Wilpon didn't think he had any real firearms.
"He's the nicest guy in the world," she said, "and the stupidest guy in the world."