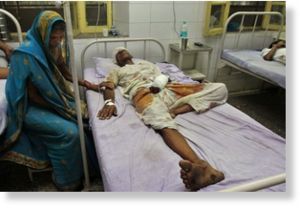 A train hit a stopped bus at a railway crossing in northern India early Thursday, killing at least 35 people returning from a wedding party, an official said.
At least 39 others were injured when the train dragged the mangled bus more than 1,600 feet (500 metres) before stopping, local administrator Selva Kumar said.
The bus, filled with about 80 people, had stopped at the unmanned crossing after its axle broke and then was hit by the speeding train, she said.
The bride and the groom were travelling in a separate vehicle and were not among the victims, Kumar said. No passengers on the train were hurt.
Two men sitting on top of the bus escaped when they jumped off seconds before the train crashed into the vehicle, said Shobharan Singh, a government official at the site.
The accident happened near Kanshiramnagar, a village 220 miles (350 kilometres) southwest of Lucknow, the capital of Uttar Pradesh state.
Local villagers and train passengers rushed to pull the injured people off the bus and they were taken to a hospital, Singh said.
"It appears the conductor was driving the bus, as his body has been found in the driver's seat," Singh said.
Train accidents are common in India. The country's railroad network is one of the world's largest and carries more than 14 million passengers each day. Most accidents are blamed on poor maintenance and human error.
Source: The Canadian Press