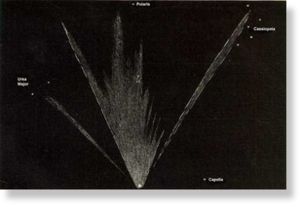 "The Comet. Mr. Editor: -- Did you see the comet Monday night? I was indebted for the pleasure to an excellent friend, who took the trouble to call and awaken me. I certainly was never more astonished. All similar visitors to our system have either been foretold, or discovered by astronomers when not visible to the naked eye. Their approach has been gradual, and their advent and progress duly chronicled by the newspapers. But this has come like a thief in the night, unannounced - - undiscovered -- until, with a splendor far beyond any of its predecessors, it blazes in our firmament ... The tail reached the zenith, inclining a little to the West. The body seemed three or four times as large as that of any other comet I ever saw. My friend says when it first caught his eye, without referring to the points of the compass, he took it for the moon ..."
Letter to the editor,
The Daily Virginian
"The Comet ... What does it portend now? Is it one of those 'great signs that shall be seen in the heavens at the time when 'wars and rumors of wars' shall fill the earth? Is it part of the grand paraphernalia in which the heavens are to be dressed when betokening the approach of that 'great and notable day' ... We should not be guided by the dim, uncertain light of supersititon; but there is much in our surroundings eminently suggestive. The times are pregnant with great events that may soon be developed. ... Events now rapidly tending towards their full development, may mark this as one of the grandest and most awful epochs in the history of the world. Who can tell what lies before us?"
Editorial,
The Daily Virginian
(The Great Comet of 1861 passed closest to Earth on June 30, 1861, according to cometography.com. The comet itself appeared in the skies of North America before the news of its May discovery in the Southern Hemisphere reached here. The vivid comet had a long tail and was one of eight "Great Comets" of the 19th century.)