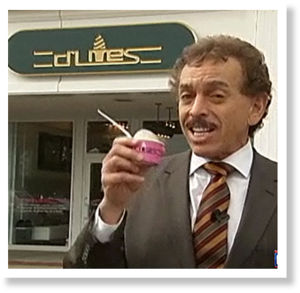 A "Shame, Shame, Shame" segment aimed at an ice cream chain that bills itself as a "healthier alternative" to the frozen delight was "lame, lame, lame," according to a new lawsuit.
Television reporter Arnold Diaz is being sued by the owner of three D'Lites Emporium stores after the Fox 5 consumer advocate inducted the chain into his "Hall of Shame" for allegedly misleading consumers about the nutritional content of its ice cream.
Matthew Prince, who operates D'Lites stores in Bayside, Babylon and Commack, contends he was shamed last month in a "grossly irresponsible" eight-minute segment that accused the chain of selling products that aren't "low carbs" or "low in sugar."
The suit, filed in Manhattan Supreme Court, says Fox 5 employee Angela Cascarano posed as a prospective owner of a D'Lites store to secure an April meeting with company executive Magda Abt.
A few hours after the meeting, the suit says, Diaz, Cascarano and a cameraman pounced on the woman and her 13-week-old infant and blocked her from entering her car.
"Diaz and his cohorts proceeded to pursue Abt towards the D'Lites storefront whereupon Diaz began to shout - so as to make certain that others nearby could hear - that D'Lites was 'selling a lie,'" the suit says.
Abt called Woodbury cops, according to the suit, after being confronted by the 36-time Emmy Award-winner and his team. The segment also shows Diaz being chest-bumped by a screaming man outside the ice cream shop.
A Fox 5 spokeswoman told Reuters that the station "stands by Arnold Diaz's story."
In addition to Fox 5, the suit names News Corp. as a defendant, saying the company ignored a report that backed up D'Lites nutritional claims in order to air an unbalanced report. The suit says laboratory tests performed by Diaz and his team on unfrozen, concentrated ice cream mix were inaccurate.
"The only fair way to accurately measure the nutritional value of D'Lites' ice cream is to measure the volume of the ice cream product in its frozen state as served to the customer," the suit says.
Prince contends negotiations with at least four potential D'Lites licensees to open at least seven stores melted away after the "Shame, Shame, Shame" segment aired.