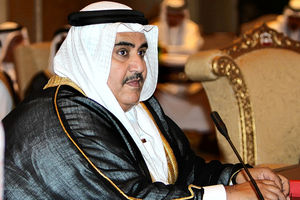 In Report to U.N., Government Says Lebanese Militant Group Has Been Working to Overthrow Ruling Khalifa Family
Bahrain has accused the Iranian-backed militia Hezbollah with seeking to overthrow the island-state's ruling family, in a report to the United Nations, escalating the growing cold war between Sunni Arab states and Shiite-dominated Iran.
The confidential report, sent to U.N. Secretary-General Ban Ki-moon last week, alleges that Hezbollah has been training Bahraini opposition figures at camps in Lebanon and Iran. Bahrain's government also accuses Hezbollah leader Hassan Nasrallah and other senior members of the Islamist Lebanese organization of directly plotting with Bahrain's largely Shiite opposition on how to challenge the ruling Khalifa family.
Iran, Hezbollah and Bahrain's opposition movement deny they have been cooperating in organizing the monthslong protests, which have largely been contained since Saudi Arabia, the United Arab Emirates and other Gulf countries dispatched troops to bolster the Khalifa regime.
Comment: Yes, they've largely been "contained" since Saudi and Bahrani troops, armed to the teeth by US and Israeli suppliers, mowed many of them down with machine-gun fire throughout March and April.
U.S. intelligence officials said they have tracked communications between Iran, Hezbollah and Bahraini opposition groups since the uprising began in February. The State Department has stressed it believes the Bahrain protests were born out of the opposition's legitimate demands for greater political rights, rather than being orchestrated by Tehran.
Comment:
Yes, very important to get that in. Otherwise this 'Hezbollah plot' story would just never carry. So the rule of thumb seems to be: if protests begin in a country which is friendly to the empire, then Hezbollah, Iran and Hamas are responsible. But if they begin in a country in which the empire wants regime change, then the protests are organic, genuine expressions of freedom-loving peoples whose rebels armies must be
armed
, trained and
directed
towards the overthrow of the regime.
Secretary of State Hillary Clinton also has criticized the Bahraini crackdown and called for a return to a political dialogue.
Bahrain is 60% to 70% Shiite Muslim, and the protest movement's leaders have been seeking greater economic and political rights in a country dominated by the Sunni minority.
In the report, Bahrain called on the U.N. to try to constrain Iran's activities in the Gulf. "Several terrorist acts carried out in Bahrain have revealed that many Bahraini Shiites received military training from Lebanon's Hezbollah," reads the 13-page report, which was reviewed by
The Wall Street Journal
. "Evidence confirms that Bahraini elements are being trained in Hezbollah camps specifically established to train assets from the Gulf."
The report doesn't list any major terrorist plots exposed in recent years, but makes reference to events as far back as the 1980s.
Iran's Foreign Minister Ali Akbar Salehi wrote Mr. Ban last week and demanded that the Gulf states withdraw their troops from Bahrain.
"The foreign military intervention in Bahrain has only taken place to strengthen the government's hands in repressing the popular legitimate demands" of the people, Mr. Salehi wrote. "I would like to categorically reject the desperate attempts by the Bahraini authorities, who seek to implicate my government with a situation, which is only the result of their own miscalculations and missteps."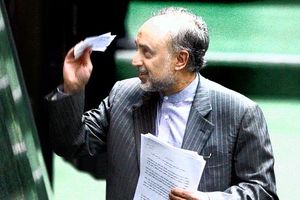 ence by Iran and Hezbollah inside the sheikdom.
Bahrain's government alleges that Hezbollah has established a number of training camps to prepare operatives for militant actions inside Bahrain and other Persian Gulf countries. Among these are alleged camps in Lebanon's Bekaa Valley, a Hezbollah stronghold, and a site north of the Iranian capital, Tehran, called "The Imam Ali's Barracks."
The report says militants trained by Hezbollah were involved in a string of sabotage, murder and arson cases conducted in Bahrain over the past two decades, all designed to destabilize the Khalifa monarchy.
The report also documents what it alleges have been a series of meetings over the past few years between Hezbollah and the leaders of Bahrain's Shiite movements, including al Haq, a previously banned Shiite political movement, and al Wefaq, the country's largest opposition organization. Bahrain's government says these meetings have focused on coordinating political strategy inside Bahrain, and that the Shiite groups have used Hezbollah's television channel, al Manar, to mobilize Bahrain's opposition.
The report says that Hasan Mushaima, the head of the hard-line al Haq movement, met this year with Mr. Nasrallah in Beirut before returning from exile in London.
The two men "discussed the scope of demands and possible limits, whereby Hezbollah recommended demanding a constitutional monarchy without objecting to toppling the regime," according to the report.
Mr. Mushaima, who has been arrested by Bahrain security forces, couldn't be reached to comment.
Al Wefaq, a more moderate group, has sought the establishment of a constitutional monarchy, in contrast to hard-line protesters who have called for the Khalifas' downfall.
Yet Bahrain's government said Hezbollah also has been central in developing an alliance between al Wefaq and other Bahraini political parties to maximize their power inside Bahrain. "Hezbollah has held meetings with resistance groups...to unify their efforts to accomplish the Shiite strategic goals," the report says.
Al Wefaq has denied taking instructions from overseas. It says hundreds of Bahraini opposition members have been arrested, with dozens still missing.
The uprising against the Khalifa monarchy has posed a major diplomatic challenge for the Obama administration. The Pentagon bases its Fifth Fleet, which polices the oil-rich Persian Gulf, in the island-state. And Saudi Arabia, which is connected to Bahrain by a causeway, has pressed the U.S. to back the Khalifa family, worried that the regime's overthrow could incite protests among Saudi Shiites and further strengthen Iran's hand.
U.S. officials have voiced alarm at the deaths of Shiite opposition figures in custody and the arrests of hundreds of protesters. Mrs. Clinton last week pressed Bahrain and other Mideast countries not to use force, in part for fear that a crackdown provides Iran with further reasons to interfere in their internal affairs.
"What we are saying, both publicly and privately, is don't do anything that gives any ammunition, so to speak, to the Iranians," Mrs. Clinton said at a State Department event Wednesday aired on PBS.
Separately, Bahrain's crown prince, Sheikh Salman bin Hamad al-Khalifa, said he had decided "with deep regret" not to attend the April 29 royal wedding in England because of the unrest in his kingdom. Human-rights campaigners had called on Britain's royal family to withdraw his invitation in the face of its treatment of protesters.