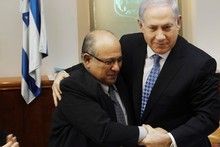 Credited with sabotaging Iran's nuclear programme and overseeing a string of high-level assassinations in the Middle East, recently retired Mossad chief Meir Dagan has levelled his sights on a surprising new target - Israel's top leaders.
In a series of remarks in recent weeks, the man who headed Israel's vaunted espionage agency for eight years has let it be known that he has no confidence in the leadership of Prime Minister Benjamin Netanyahu and Defence Minister Ehud Barak.
According to Yediot Ahronot he regards them as "reckless and irresponsible individuals" capable of undertaking dangerous military adventures such as a strike against Iran's nuclear facilities.
In a talk last week at Tel Aviv University, he went further, lashing out at the Netanyahu Government's inability to engage the Palestinians in dialogue, leaving a political vacuum that invites violence. Long an icon of the rightwing, Dagan took a leftist stance by endorsing the Saudi Arabia peace plan which envisages normalisation of relations between the Arab world and the Jewish state if the latter comes to peace terms with the Palestinians.
According to reports in several Israeli newspapers, whose reporters have been briefed by Dagan, he decided to speak out because his own retirement coincided with the retirement of the head of the Shin Bet security service, the head of military intelligence and the armed forces chief of staff.
Before, he reportedly said, they had together been able to serve as a brake against irresponsible actions by the Government leaders. "Now I am afraid that there is no one to stop Bibi and Barak."
During Netanyahu's recent address to a joint session of the United States Congress, he received repeated standing ovations. Subsequent polls at home showed his popularity soaring. But Dagan's remarks, and his presumed backing by the other retired security chiefs, depicts Netanyahu as a leader of dubious judgment. Thus far, the only one to voice criticism publicly is Dagan.
Israel's leading political commentator, Nahum Barnea of Yediot Ahronot, wrote that the four recently retired security chiefs had for years conferred closely with Netanyahu and Barak on the most intimate secrets of state and knew the pair well. "Their testimony is important and their testimony is troubling."
Dagan termed a military attack by Israel on Iran, which Netanyahu has been hinting at for years, as "a dumb idea". The neutralising of Iran, he said, must be left mainly to the international community, with Israel making its own contribution to the broader effort. A military attack on Iran would involve Israel in a regional war that would pose a threat to its very survival.
Dagan has expressed fears that the absence of any Israeli peace initiative would leave it floundering in September when the Palestinian Authority is expected to request, and receive, recognition of a Palestinian state by the United Nations. "He is afraid that Israel's subsequent isolation will push its leaders to the wall and cause them to take reckless action against Iran," wrote
Haaretz
reporter Ari Shavit last weekend.