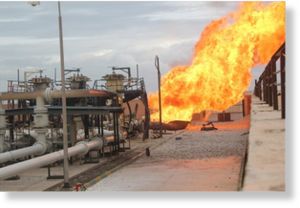 More than a month after saboteurs blew up an Egyptian pipeline supplying natural gas to Israel, the line is repaired but gas is not flowing and foreign shareholders of the company suspect politics to be the reason. They are threatening legal action against Egypt.
American and Thai shareholders in the pipeline have demanded urgent consultations to avoid resorting to binding arbitration based on trade treaties. One letter to Egyptian ministries from an American company with an Israeli chairman threatens a lawsuit of $8 billion.
In Israel, which depends on Egypt for 40 percent of its natural gas, the electric company has warned that customer rates could rise by 15 percent. Officials in the Israeli company that co-owns the gas line say the Egyptian government is afraid of popular opposition to Israel and the perception that Israel has had a sweetheart deal.
"The repair work was completed more than two weeks ago and we are waiting for the government to order the gas to start flowing, but so far the government is paralyzed," Nimrod Novik, senior vice president of Merhav, the Israeli company, said in an interview. "Partly there is fear of more sabotage. There has been no decision not to supply gas, but nobody in the government wants to be responsible for a decision that is so unpopular in the street."
The pipeline supplies not only Israel but also Jordan, Lebanon, Syria and some Egyptian companies. None have had their gas supply restored since the April 27 explosion, and Egypt is losing millions of dollars a day. The pipeline appears to have been sabotaged by Sinai Bedouin eager for a greater share of revenues from the pipeline rather than by known anti-Israel forces in Egypt.
Even so, it is the Israeli part of the equation that seems to be the main cause of the delay.
Since Hosni Mubarak was driven from the presidency in February, Egypt has been governed by an interim military council. Relations with Israel, unpopular but strongly upheld by Mr. Mubarak, have come under scrutiny. The new government has defied Israeli wishes by pushing for reconciliation between the two main Palestinian parties, Fatah and Hamas; reopening the border with Gaza; and announcing plans to exchange ambassadors with Iran.
The new government has promised to uphold existing treaties and commitments, and that includes the peace treaty with Israel.
But Egypt's former energy minister and five ministry employees are in prison and accused of cheating the state of more than $700 million through the deal with Israel. A close associate of Mr. Mubarak's, Hussein K. Salem, was a top shareholder in East Mediterranean Gas, or EMG, the company that owns the pipeline, until 2008.
The gas deal has been an integral part of the two countries' relations and has been supported by Washington. President Obama recently offered Egypt $1 billion in loan guarantees and $1 billion in debt relief on the condition that it meets its commitments. The United States has told Egypt that its security obligations in the northern Sinai are among its commitments, an American official said.
Although gas supplies have been interrupted by two acts of sabotage in recent months, repairs were made quickly. But disputes among Egyptian government agencies - the Defense and Energy Ministries, the police and the army - over security arrangements have stopped the gas from flowing again promptly. In addition, the supply of gas to Israel has become highly politicized.
A former deputy chief of Egypt's court of appeals, Judge Mahmoud al-Khodheiri, recently expressed a common sentiment about the gas deal in an interview with Al Jazeera. "I consider the export of gas to Israel an act of treason, and we should stop it," he said. "I salute the people who bombed the gas pipe because this is my blood that is being transferred to the enemy."
The American company threatening the $8 billion lawsuit is Ampal, whose chairman and chief executive officer is Yosef A. Maiman, also owner of the Israeli company Merhav, another partner in EMG. Another American company involved is EGI, controlled by Sam Zell, a Chicago-based businessman. The EGI letter that was sent to the Egyptian authorities accused them of "failing to provide EMG with full protection and security" for its investment and "refusing to resume delivery of gas to EMG."
It asks for consultations and threatens to go to binding arbitration in Washington, which experts say could take up to six months.
On Monday, Prime Minister Benjamin Netanyahu of Israel told a parliamentary committee that Egypt was having trouble maintaining security and control in the Sinai and cited the gas explosions as an example.
Mr. Novik, the Israeli corporate official, said that the popular perception in Egypt that Israel had received cheap gas was wrong. He said the figure cited by the prosecution of $714 million that should have gone to Egypt from gas sales was an invention based on the false comparison between the price paid by Israel to Egypt and the price paid by Germany to Russia.
There is no international benchmark price of natural gas because its price depends largely on how the gas is transported and how far it travels. So while Germany pays $7 per million B.T.U.'s to Russia and Israel $3 to $4 per million B.T.U.'s to Egypt, Germany also pays $4 to $5 per unit in transport costs and fees along the way whereas Israel only pays $1. The net profit to Egypt from Israel's payments is the same or better than that to Russia from Germany, he said.
But the transport and infrastructure costs have been lost in the public discussion in Egypt, he said, creating the impression that Israel has been getting a deal based on Mr. Mubarak's desire to please Israel and the United States.