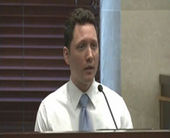 Orlando, Fla. - On Thursday, for a second day, Anthony Lazzaro, the former boyfriend of Casey Anthony, took the stand during her murder trial. During his testimony he revealed that was told a secret by Casey prior to her arrest for killing her daughter, Caylee Anthony.
Casey, 25, is charge with murdering Caylee in the summer of 2008.
Between June 15, the last day the girl was seen by anyone other than Casey and the day Caylee was reported missing by her grandmother, Cindy Anthony, Casey told no one about the little girl's whereabouts.
The girl's remains were discovered in a wooded area near the Anthony family home on Dec. 11, 2008.
Defense attorney Jose Baez asked Lazzaro about the mysterious secret Casey told him prior to her arrest, however, because his response would have been considered hearsay, he was not allowed to divulge exactly what the secret was.
The implication is likely the secret Casey told Lazzaro is regarding the sexual abuse she claims to have suffered at the hands of her father as a child - allowing the defense to argue she did not fabricate the abuse solely as a legal defense, but instead told Lazzaro about it even before she was arrested for Caylee's death.
Lazzarro also noted that Caylee was an extremely bright little girl who loved Dora the Explorer, where she learned to count in Spanish.
In addition, he said he only saw a loving relationship between Casey and her young daughter.
After being excused, Lazzaro was called back to proffer testimony regarding gas cans in Casey's trunk, but had inadvertently left the courthouse with the permission of the prosecution, which did not please Judge Belvin Perry.
Experts estimate Casey's trial could last up to two months. If convicted of killing Caylee, Casey could face the death penalty.