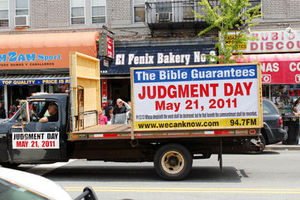 At 6 p.m. today, several things happened in New Jersey: a car accident in Edison, rain in Sparta. A PATH train pulled into Newark Penn Station.
But the world did not end.
"Nope," said State Police Sgt. Stephen Jones. "We're still here."
He added that no unusual activity had been reported.
May 21 had been long predicted as the day the world would begin coming to an end by Christian evangelist Harold Camping, an 89-year-old retired civil engineer who has built a multimillion-dollar nonprofit ministry and radio network based on his apocalyptic prediction.
Camping predicted that some 200 million people would be saved and ascend to heaven while those left behind would die in earthquakes, plagues and other calamities until Earth is consumed by a fireball on Oct. 21.
In New Jersey, none of this came to pass.
The U.S. Geological Survey reported no earthquake activity in the Garden State today, or on much of the East Coast. The last recorded earthquake on the eastern seaboard occurred on Monday near Bliss Corner, Mass., and had a magnitude of just 1.3.
Flights arriving and leaving Newark Liberty International Airport were not experiencing delays, according to the Federal Aviation Administration, which is only slightly out of the ordinary.
At Newark Penn Station, trains came and went as expected.
"I've been joking about this all day, but I don't believe," said Charles Clark of Newark as he bought a pack of Marlboro Reds in the station. "It (puzzles) me why God would tell a newscaster if the world was going to end. Why wouldn't he just call the pope?"
But it was business as usual at WFME-FM, the West Orange-based outpost of Camping's Christian radio station, FamilyRadio.com.
The station continued to broadcast throughout the day. At 6 p.m., a pre-taped program on reducing the risks of heart attack and stroke played, unabated.
"We're just going to stay on the air broadcasting, unless for some reason we're not," said an engineer working at the station earlier today. He asked that his name not be used, because he said the station was getting a lot of hate phone calls.
He declined to say whether he personally was a believer.
Jason Frentsos, a producer at WFME-FM, said this afternoon that he was spending his last day with his family. Frentsos said he was not worried that the predicted earthquakes had not materialized elsewhere in the world, like Australia or Asia, where 6 p.m. had come and gone without incident.
"The day is confirmed, but the 6 p.m., around-the-world time was not confirmed," he said. "As long as it's May 21 somewhere, that's all that matters."
Frentsos made his comments for an article posted this afternoon on NJ.com. He said "there is no point" in commenting for a newspaper story that would be published after "the Rapture."
Chris Reeder, a 25-year-old musician, and his friend showed up at Newark Penn Station on a whim this afternoon. With fingers crossed, they booked a train to Miami.
"Not that we believe it, but we're partying like the world is going to end," he said. "If it does, we're going to go out with a bang."
At 6:25 p.m., their train left the station.
In New York's Times Square, Robert Fitzpatrick, who spent his own money to put up advertising about the end of the world, expressed surprise at 6 p.m. as he was surrounded by tourists.
"I can't tell you what I feel right now. ... I don't understand it. I don't know. I don't understand what happened," he said.
The internet was alive with discussion, humorous or not, about the end of the world and its apparent failure to occur on cue. Many tweets declared Camping's prediction a dud or shared, tongue-in-cheek, their relief at not having to do weekend chores, pay their bills or take a shower.
The top trends on Twitter at midday included, at No. 1, "endofworldconfessions," followed by "myraptureplaylist."