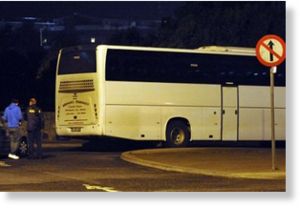 The Irish army has discovered a suspicious device in Ireland, shortly after it carried out a controlled explosion to ward off the threat of a booby-trapped bus.
Irish soldiers performed a controlled explosion of a makeshift bomb found on a bus outside Dublin, ahead of the first state visit to the country by Britain's Queen Elizabeth II.
The bomb was found in the town of Maynooth, 25 km (15 miles) from Dublin and blown up by an army bomb disposal unit in a controlled explosion, the military said.
Police later said the army's bomb squad was investigating a second suspicious device found at a Dublin tram station, but an army spokesman said the second device was a hoax.
"It was a hoax, a device trying to imitate a viable device," army spokesman Pat O'Connor said of the second device, found at tram station in north Dublin.
The bombing happened amid the biggest security operation ever mounted by the state.
The Queen's visit, the first by a British monarch since Ireland won independence from London in 1921, is designed to show how warm neighborly relations have replaced centuries of animosity.
However, the bombing campaign and a coded warning on Monday about a possible bomb blast in London, had a clear message that a small minority remain violently opposed to continued British rule over Northern Ireland.
Meanwhile, Britain's Foreign Office announced that the Queen's visit would still go ahead despite the bomb's discovery.