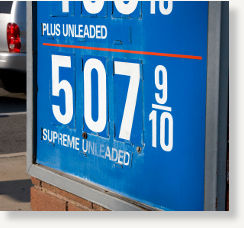 The psychological price-point of $4 a gallon is looming straight ahead, and will likely be hit before the end of the week, based on the rate of recent price escalation.
The national average price of self-serve regular today is $3.967 a gallon, according to AAA's Fuel Gauge Survey. That's nearly a dime a gallon more than seven days ago.
Already, motorists in many parts of the country are paying well in excess of $4 a gallon. For example, the average price of gas has hit an all time high in Chicago, $4.39 a gallon. The average price is over $4 a gallon now in 14 states; Alaska, California, Connecticut, District of Columbia, Hawaii, Illinois, Indiana, Michigan, New York, Ohio, Rhode Island, Washington, Wisconsin and West Virginia.
Falling stockpiles
Despite the rising price, U.S. Gasoline stockpiles have been falling, though it's far from clear that is due to increasing use. Rather, anecdotal evidence suggests demand destruction is taking place.
"The latest Department of Energy report showed a tenth consecutive week of drawdown in U.S. gasoline supply," said Andrew Delmege, AAA's manager of regulatory affairs. "While a decline is not unusual at this time of year, as suppliers lower stocks during the switch from winter- to summer-blend gasoline, this most recent report has stocks at 205.6 million barrels - 18.1 million barrels below the same period last year. It is worth noting that these numbers came alongside data that showed a slight week-over-week increase in gasoline demand."
But some analysts have suggested that slight uptick in demand was related to Easter holiday travel and may be masking the extent of demand destruction taking place.
Deja vu
Three years ago, the average price of gasoline peaked at $4.17 a gallon in mid July 2008. From that point on a recession that began seven months earlier began to accelerate. Some economists think the cost of gasoline was a major contributor to the Great Recession, which hit in full force that October.
Meanwhile, consumers are bracing themselves for even more pain at the pump. Gasoline prices don't usually start rising until the beginning of the summer driving season, which begins less than four weeks from now.