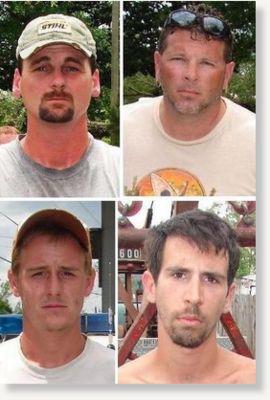 Four Florida men posing as relief workers have been arrested and charged with looting in Pleasant Grove, authorities said.
Shortly before noon today, a person in Pleasant Grove alerted Jefferson County Sheriff deputies after seeing the men taking property from houses and loading it into a truck. The witness gave the deputies a description of the suspects and their vehicle.
Jefferson County deputies, along with Baldwin County deputies, went to the area where the suspects were reported to be in the 800 block of 5th Street in Pleasant Grove.
Taken into custody were: Anthony Dale Haislip , 31, Sarasota, Fla.; Christopher Don Elmore, 36, Bradenton, Fla.; Jon Robert Berube, 24, Sarasota, Fla.; and Christopher Bryant Ramsey, 21, Sarasota, Fla.
When they were arrested, the men had property from storm victims' homes as well as materials being used by Alabama Power to repair damaged lines, authorities said. A guitar was also recovered that has not been linked to an owner, said Jefferson County Chief Deputy Randy Christian.
Each man has been charged with one count of third-degree burglary, two counts of theft of property and possession of burglary tools. Bond for each suspect in connection with the burglaries is set at $200,000. Haislip, who was in possession of Oxycontin, was charged with possession of a controlled substance with an additional bond amount of $50,000