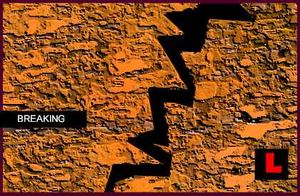 Acapulco, Mexico - A moderate earthquake shook the Mexican Pacific coast resort of Acapulco on Tuesday, forcing dozens of nervous spring vacationers into the streets. No damages or injuries were reported.
The magnitude-5.7 quake occurred at 6:07 a.m. local time (1107 GMT) and was centered about 30 miles (50 kilometers) northeast of Acapulco, in the state of Guerrero, the U.S. Geological Survey in Colorado reported on its website. It was followed by a magnitude-4.6 replica at 6:18 a.m. (1118 GMT), the agency said.
The quake occurred at a depth of nearly 13 miles (20 kilometers).
It was felt strongly throughout the state but a there were no immediate reports of damages or injuries, said Guerrero Civil Protection official Roberto Garcia.
The quake was also felt by some in Mexico City, where buildings swayed slightly and windows rattled.
Police surveying the city by helicopter and land found no damages or injuries, Mexico City's Public Safety Department said in a statement.