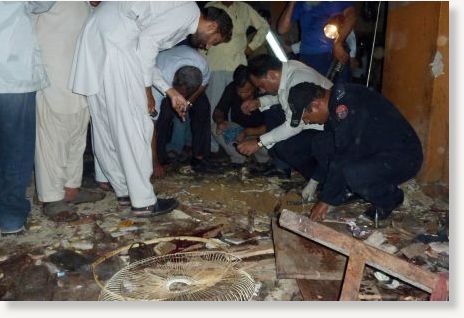 At least 16 people have been killed and over 30 others injured after a massive explosion ripped through Pakistan's southern port city of Karachi.
The powerful blast targeted the Liyari area of Karachi on Thursday, Xinhua reported.
No one has claimed responsibility for the bombing, but police suspect that the attack may have been the result of feuding gangs.
Most of the injured have been taken to the city's hospital.
Hospital sources said the death toll would continue to rise as some of those wounded in the incident are in critical condition.
Earlier in the day, unknown assailants blew up a government-run primary school building in northwestern Pakistan in Jamrud Tehsil of the Khyber Pakhtunkhwa province.
No casualties were reported, as the school was empty at the time of the blast.
Last month, a terrorist attack in the town of Charsadda in Khyber Pakhtunkhwa left 13 people dead and 42 others wounded.
The northwestern tribal regions bordering Afghanistan have been the scene of attacks by al-Qaeda and Taliban-linked militants.
Islamabad has said that more than 90,000 Pakistani troops have been deployed in the tribal regions since early 2002 in order to hunt al-Qaeda and Taliban militants fleeing Afghanistan in the aftermath of the September 11 attacks.
It says that more than 700 soldiers and 1,000 militants have been killed in clashes since 2004.