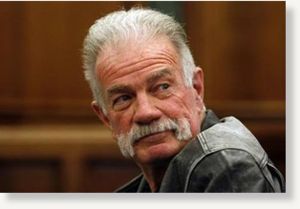 A Dearborn, Michigan jury will consider on Friday whether a controversial Florida pastor will have to post a "peace bond" before a planned demonstration in front of the largest mosque in the United States.
District Court Judge Mark Somers issued a preliminary ruling on Thursday in favor of prosecutors who have sought the bond on the grounds that the appearance by Terry Jones would require heavy police protection to prevent violence.
A six-person jury will hear the case on Friday morning.
Dearborn, which includes one of the largest Muslim American communities in the United States, has denied Jones and a handful of his supporters a permit to protest outside the Islamic Center of America.
Detroit area clergy and community activists have rallied against the planned protest by Jones in recent days, calling him a divisive figure who practices hate speech.
Other commentators have argued that police and prosecutors have overstepped by trying to block Jones and violate the constitutional protection of free speech.
Jones, 59, is the leader of a fringe, fundamentalist church in Gainesville, Florida, who was unknown until his announced plans to burn a Koran catapulted him into headlines last year.
Jones, who represented himself in court on Thursday, said he would attempt to protest outside the mosque with a handful of supporters even if he is barred.
"We have already, I think, made it very clear that our intentions are to continue to go on to protest in front of the Islamic Center," Jones told reporters after an afternoon hearing on his planned protest.
A handful of protesters heckled Jones outside the Dearborn court and carried signs that read "Racist Terry Jones Get Out of Town" and "Stop Racist Muslim Attacks."
Meanwhile, several hundred community activists and Christian clergy rallied at the nearby mosque to show their support for the local Muslim community.
"Terry Jones does not represent the Christian community. He represents himself and only himself. What we see today is the real America," Imam Hassan Al-Qazwini, the mosque's spiritual leader, told reporters.
Jones has outraged the Muslim world with his publicity-grabbing protests against "radical Islam."
In a move that prompted riots in Afghanistan, Jones' tiny church in northern Florida burned a Koran last month following a mock "trial" of the text.
Jones says he is not against all Muslims but believes their religion can lead to violence and terrorism.
His Dove World Outreach Center, a single-storey church backed by woods on the outskirts of Gainesville, reportedly has a congregation of only a few dozen adherents, including Jones family members and supporters, some of whom also wear guns.
The church's website has been offering for sale a book written by Jones entitled "Islam is of the Devil", and also T-shirts, baseball caps and mugs emblazoned with the words.
Jones is a former hotel manager who was previously ejected from a church he headed in Germany by his own followers there.