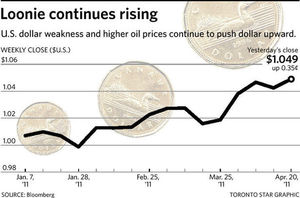 Gold prices reached new highs Wednesday, as investors fretted over stern warnings on U.S. debt and growing inflation risks in China and India.
The same forces pushed up prices for silver, oil, and other commodities, as well as the Canadian dollar, as the U.S. greenback fell sharply.
Spot gold rose to an all-time high of $1,505.70 (U.S.) an ounce.
The precious metal has hit new records for four straight days, aided in large part by Monday's threat of a downgrade to the United States' triple-A credit rating and lingering euro zone debt worries that have depressed the dollar.
Investors typically flock to gold as a hedge against inflation and uncertainty. Both China and India reported higher than expected inflation last week.
Silver also surged above $45 (U.S.) for the first time since 1980 Wednesday.
"Silver is actually blowing the doors off gold. But the rise in gold has been impressive. It is a milestone that we've crossed $1,500. It's been on a relentless rise for years and it's more than just the U.S. dollar," said Doug Porter, deputy chief economist at BMO Capital Markets.
Standard & Poor's said Monday it might cut its long-term rating on the U.S. within two years, unless Washington can rein in its budget deficit.
"The S&P warning on the U.S. credit rating this week was another call to arms for gold investors that all is not well with government finances globally," said Doug Porter.
Gold prices have risen six-fold from just $250 an ounce in 2001.
Meanwhile, the Canadian dollar rose by 0.35 of a cent (U.S.) to close at $1.049 (U.S.), its highest level since November, 2007.
"This is a U.S. dollar story as the combination of loose monetary policy and a compromised fiscal position weigh heavily against the [greenback]," said Camilla Sutton, chief currency strategist at Scotia Capital.
The currency was also supported by oil prices, which moved well above $110 (U.S.) a barrel.
Worries over U.S. debt are likely to remain at play for some time, pushing the dollar and precious metal prices to even higher levels, Porter said.
"I worry about the political backdrop and wonder if it's actually conducive to serious budget restraint in the U.S.," Porter said. "Even if the U.S. did get its fiscal house in order, there's still many other concerns for gold bugs to cling to these days, whether it's Japan or inflation in the emerging markets."
The dollar is also feeling a tailwind from a strong inflation report this week - one that makes it much more likely that the Bank of Canada will be raising interest rates sooner rather than later.
"The positives we were looking at have not gone away. If anything, they've strengthened," Porter said.
A higher Canadian dollar cuts into trade, particularly with the U.S., by far our largest trading partner. That would put a drag on the economy, particularly in Ontario and Quebec.
"There's still room for the Canadian dollar to strengthen further and that would have real consequences for the Canadian economy, many of which are not positive," Porter said.