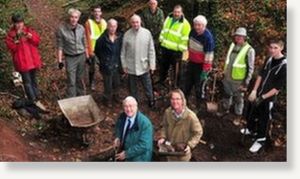 Historical secrets uncovered during one of Wales' largest community archaeology projects are to be revealed at a public meeting.
Local volunteers joined archaeologists to investigate several ancient sites in Cwmbran, Torfaen, with obscure origins.
The research focused on sites of archaeological interest in the Thornhill and Greenmeadow areas, one of which dates back more than 3,500 years.
Project leader Richard Davies said the work had "only scratched the surface".
Cwmbran is mainly known for the post-war new town, but the area has been inhabited since Neolithic times.
The Iron Age Silures tribe later held sway before being subdued by the Romans but this 18-month series of investigations has proved a history stretching back to the Bronze and Stone Ages.
A showcase event is being held at the Thornhill Community Centre, Cwmbran at 1600 BST on Wednesday.
Mr Davies, leader of the Ancient Cwmbran and Cistercians Community Archaeology Project, said the group had been pleased at the public interest.
"We had 150 volunteers sign up to the website to help out which was great because this is the most important project in the history of this community and we have only scratched the surface," he said.
"We started with zero information because the town is so new and this was the first archaeological investigation.
"We can now reliably say that between the Bronze Age and the Iron Age there was quite a large population living in Cwmbran."
The project has been funded by the Heritage Lottery Fund, Cwmbran Regeneration Partnership and Torfaen council.
It has seen volunteers conduct archaeological investigations into six historical sites in the area - Maes-y-Rhiw woods, Thornhill woods, an ancient monastic site at Llanderfel Farm, Llantarnam Abbey, Fairwater High School and Twm Barlwm Bronze Age Cairns.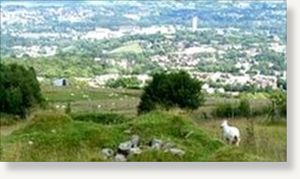 Bronze Age settlers
Mr Davies said the initial investigations discovered quartz outcrops in the woodland along with lithics or stone tools made of flint.
He said flint does not naturally occur in south east Wales and suggested that Bronze Age settlers brought it over from England.
Lithics were also found at a site near Llantarnam Abbey, while a Palaeolithic axe was found near Fairwater School.
A dig of an old fishpond at West Pontnewydd housing estate also uncovered a Bronze Age women's bracelet.
Meanwhile, the Geomatics Group conducted an aerial survey of the whole valley to identify land features where other finds could be unearthed.
The project, which is applying for further funding for future investigations, has also produced a local history book and education pack for schools and a heritage walk.
Mr Davies added: "In many ways it's the end of one chapter and the beginning of another.
"It has been a fascinating project that has become an integral part of what is a relatively young community's history."
Torfaen council leader Bob Wellington, who chairs the partnership, said: "This project has really captured the enthusiasm and imagination of the Greenmeadow and Thornhill communities."