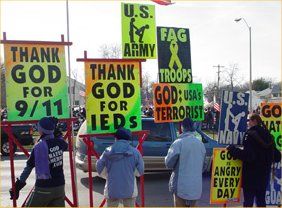 Oklahoma Governor Mary Fallin signed a bill into law Monday that restricts members of the Westboro Baptist Church from protesting at military funerals.
The new law, introduced by Republican State Senator Josh Brecheen, prohibits protests two hours before or after a funeral. It also restricts protesters from being within 1,000 feet of a funeral, up from 500 feet under a previous law.
"Protesting a funeral for political purposes is an abhorrent and disgusting practice," Fallin said. "While such distasteful protests have been ruled constitutionally protected and cannot be legally prohibited, this legislation will help protect grieving families from people who are looking to exploit their suffering."
The infamous Westboro Baptist Church pickets the funerals of military families with offensive signs such as "Thank God for Dead Soldiers" and "God Hates America." The church believes that God is punishing the United States because of America's acceptance of homosexuality.
"It's deplorable," Brecheen said. If your family sacrificed to the level that those in likened situations have sacrificed, this shouldn't happen."
Not a single Oklahoma lawmaker from either house of the state legislature voted against the bill.
In November 2010,
angry residents slashed the tires on the church's van
after they picketed the funeral of a McAlester, Oklahoma soldier. Police said the Westboro Baptists were unable to find anyone in town who would repair their vehicle.