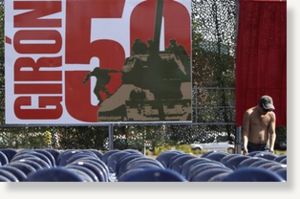 Cuba kicked off a crucial Communist Party congress Saturday with a big military and civilian parade to mark 50 years since the defeat of CIA-backed exiles at the Bay of Pigs, still celebrated here as a landmark triumph over the island's powerful neighbor to the north.
Thousands of soldiers high-stepped through sprawling Revolution Plaza as martial music blared from loudspeakers, not far from an iconic sculpture of Ernesto "Che" Guevara that gazes down from the side of the Interior Ministry building. Helicopters whirred and jet fighters in combat formation roared overhead while freshly painted amphibious assault vehicles and rocket launchers rumbled past.
"Long live Fidel! Long live Raul! Long live the Communist Party of Cuba!" a female announcer shouted, and particpants responded with shouts of approval.
Tweaking a theme from Abraham Lincoln's Gettysburg Address, a male announcer declared Cuba's revolution to be "Of the humble, by the humble, and for the humble."
President Raul Castro, the former head of Cuba's armed forces before taking over the presidency from his brother Fidel, donned military fatigues for the occasion. He looked on with other dignitaries from a dais, waving and saluting the troops. There was no sign of Fidel Castro.
Hundreds of thousands of Cubans - from aging veterans to factory workers - took part, many ferried to the plaza on a fleet of aging Soviet-era buses and some shiny new ones purchased from China, leaving the rest of the city mostly deserted.
"It is a really good party," said Anabis Fernandez, a 54-year-old employee at a Havana sports facility who was among the marchers. "There are a lot of people here and it's very well organized."
Legions of young people brought up the rear of the parade, a symbol, according to articles in state-run media, of the continuity of the 1959 revolution.
Continuity is an important theme for Cuban leaders these days. President Raul Castro is 79 and his brother Fidel is 84.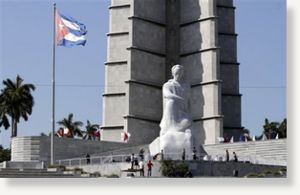 Raul has acknowledged that this year's Communist Party gathering is likely to be the last overseen by the brothers and those who fought with them a half century ago. In speech after speech, he has lamented that the time the revolutionary generation has left is short, but the work needed to put Cuba's economy on track immense.
Since taking over the presidency permanently in 2008, Raul has turned over tens of thousands of acres (hectares) of fallow government land to small farmers, opened the economy to a limited amount of free enterprise, and gradually cut some of the generous health and food subsidies Cubans have come to expect in return for working for extremely low wages.
He also has repeatedly warned Cubans that they must work harder if the island's moribund economy is to survive. Plans to lay off hundreds of thousands of state workers have been delayed indefinitely, but Raul has insisted they are still part of a larger five-year reform plan.
More details of that plan are expected to emerge from the four-day congress, which was scheduled to open with a speech by Raul after the parade. Many Cubans are hoping the congress will expand the list of approved private enterprises and relax rules on buying and selling homes and automobiles, among other measures.
The changes announced by Raul so far have already been a significant departure for a Marxist system where the government employs four-fifths of the work force and dominates nearly the entire economy.
Yet Castro has vowed the changes are meant to improve Cuba's socialist system, not toss it out.
It's no accident that the congress, the first since 1997, is being held on the anniversary of the Bay of Pigs triumph and Fidel Castro's April 16, 1961, announcement that the revolution would forever be socialist in nature.
"It sort of emphasizes where they've been and where they're going now," said Wayne Smith, a senior fellow at the Center for International Policy in Washington who was chief of the U.S. diplomatic mission on the island from 1979 to 1982. "It'll be very interesting to see what comes out of this congress. Just what kind of a new system are we going to see?"
In addition to the economic changes, delegates are expected to vote in new party leaders after Fidel Castro's announcement last month that he is no longer first secretary. With Raul all but certain to take up his brother's mantle, all eyes will be on who is named to the No. 2 spot - a graying revolutionary comrade, or a fresh new face.
Source: The Associated Press