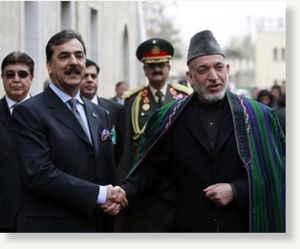 Afghanistan and Pakistan agreed on Saturday to add top military and intelligence officials to a joint commission seeking peace with the Taliban, a measure they said would improve cooperation and bring peace closer.
Pakistani Prime Minister Yusuf Raza Gilani said he and former Afghan president Burhanuddin Rabbani, who heads Afghanistan's efforts to reach out to the Taliban, would bring security chiefs into the joint commission.
The commission was originally set up in January to include foreign ministers from the two countries.
"Today's visit, I believe has been one of the most historical and unprecedented meetings, because all the stakeholders were with us," Gilani said at a news conference with Afghan President Hamid Karzai at Karzai's garden palace in Kabul after a fleeting one-day visit.
Pakistan, which backed the Taliban government that ruled Afghanistan during the 1990s, will be crucial to any attempts to stabilise its western neighbour, although the two countries have had an uneasy relationship.
Islamabad's intelligence services are still believed to have close links with many of the insurgent groups they funded and supported during and after the war against the Soviet Union, including the Taliban leadership which is based in Quetta.
Afghan government officials have frequently accused Pakistan's military and its influential spy agency of trying to derail peace negotiations with Taliban leaders.
Many lower level insurgents also find safe haven in Pakistan's lawless tribal regions, although Gilani denied the mountainous 2,400-kilometre-long border was porous.
Karzai said the meeting with Gilani, which also involved Pakistani army chief General Ashfaq Parvez Kayani and intelligence chief General Ahmed Shuja Pasha, marked an important step forward for both neighbours.
"We today have clarity, which never existed earlier," he said. He said he had also discussed the move to upgrade the commission with U.S. counterpart Barack Obama during a phone call last week, and it had the full backing of Washington.
The United States contributes two-thirds of the nearly 150,000 foreign troops in Afghanistan, who are preparing to hand over security control to Afghan forces by the end of 2014.
"We welcome the participation of the U.S. in this tripartite arrangement... We have recently seen more interest by the U.S. in the peace process," Karzai told journalists. He and Gilani were both keen to describe the peace and reconciliation process as "Afghan-led and Afghan-owned."
Talking to Taliban
Acceptance has grown at home and abroad that talks may be the route to peace in Afghanistan, with U.S. and NATO leaders also examining their long term-commitment to the war, which is at its deadliest since the Taliban were ousted in late 2001.
Both Karzai and Gilani said Saudi Arabia and Turkey could be involved in aiding future talks. Turkey is working to open a political office for the Taliban in Istanbul, which could help facilitate negotiations to end the war, a close aide to the Turkish Prime Minister was quoted saying on Friday.
Karzai put Rabbani in charge of a "peace council" in October, after a "peace jirga" assembly meeting of community leaders. His plan includes offering amnesties and jobs to Taliban foot soldiers and asylum in third countries to leaders.
Karzai said talks with the Taliban would be addressed within the framework of the joint commission involving Pakistan.
Pakistan, long blamed for stoking the insurgency in Afghanistan to thwart rival India, is nevertheless seen as an important ally to the United States and other NATO members as they seek to bring the Taliban to the negotiating table.
"We both are suffering, we are brothers, we are neighbours, we should fight a common enemy. Therefore we should have a greater cooperation between both countries," said Gilani. "There should be no blame game, because we want to stop terrorism."
Source: Reuters