Citizen journalists defy threats of violence to replace harassed local reporters and banned foreign media with web technology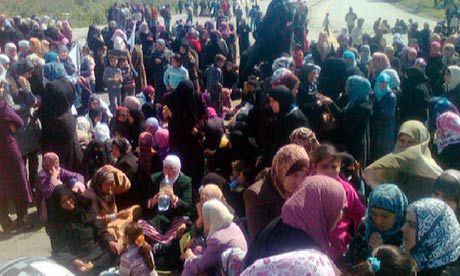 He's got sim cards and pseudonyms, cigarettes and light fingers that dance across the touchpad in a mad ballet of digital information sharing. "Now I'm receiving reports of four people killed in Deraa. They opened fire there now," says Rami Nakhle.
Staring down at his laptop, Nakhle reconnects, for the eighth time that afternoon, a Skype call to a protester in Banias, a port on Syria's western Mediterranean coast. "Now I will tell demonstrators in Banias there are four killed in Deraa," he says, sucking back on a cigarette.
On the laptop screen is the pixelated image of a man holding an olive branch in one hand and a mobile phone in the other, which he is using as a video camera to stream, via the social media programme Qik, live images of tens of thousands of protesters in Banias directly into Nakhle's laptop, ready for uploading to YouTube.
Over a faltering digital connection, Nakhle tells his colleague in Banias about the deaths in Deraa. The message is relayed to a protester with a megaphone, who broadcasts it to the masses. Ten minutes later the reaction comes in: "OK, now we can hear chanting in Banias, 'With our souls, with our blood, we sacrifice to you Deraa.' And they are in Banias, a different side of the country!"
Among unprecedented and growing protests against the 41-year dictatorship of the Assad family over Syria, social media mavens such as Nakhle are emerging as the thread that binds disparate protests together. Foreign media have been all but barred from reporting from Syria and dozens of local and Arab journalists have been arrested or expelled. In their place, Syria's cyber activists are using social media and technology to ensure reporting gets out, linking the protesters on the street with the eyes and ears of the world.
It's a risky business. Nakhle, who was known as Malath Omran until his real identity was made public last week by the Syrian secret police, lives in a secret location in Beirut and receives regular threats on his Facebook and Twitter accounts from what he believes are Syrian security agents, which range from the comic - "Have you started using Pampers yet?" - to the chilling.
"My sister was arrested for two months and 24 days just for saying she didn't think the president was very smart during a conversation at Damascus University," says Nakhle.
"So Syrian security posted a message on my wall saying, 'You have until midnight tonight to announce your withdrawal from the Syrian revolution or we will get her.'"
Another activist, a 26-year-old woman based in Damascus who did not want to be named, and who uploads protest footage to YouTube, explained how the Syrians have learned from their Tunisian and Egyptian counterparts.
"We use a proxy server and change it almost every day," she said. "Today most young Syrians have mobile phones with high quality cameras so each one has become like a journalist. I upload videos and statements from internet cafes. I leave after 10 minutes and don't come back to the same one for a long time."
Reporters Without Borders lists Syria as one of 10 countries that are active "internet enemies". Hundreds of websites remain blocked, most of them run by political movements perceived to be opposed to the regime in Damascus.
Until last month, Syria held one of the eldest and the youngest political prisoners in the world, 82-year-old Haithem Maleh, a veteran human rights campaigner who was released, and 19-year-old student blogger Tal al-Mallouhi, who remains behind bars.
"Many of my friends were arrested in the last few days, especially the activists behind the computers," says Razan Zeitouna, a lawyer and human rights researcher who has played a key role inside Syria connecting activists with the media outside. She has been interrogated many times by the secret police.
"Each time they tell me, 'This is the last time you get out. Next time you'll never see the sun again.'" But, like other activists,
Zeitouna fears for the life of the historic movement she has played a part in. "We lost so many young people in our mission," she says, pausing for a moment on the Skype line. "The thought of us not achieving our goals would mean it had all been for nothing. That's what makes us scared."