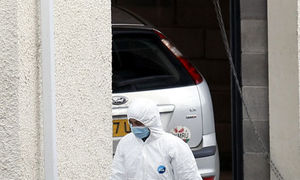 Police say bomb found in van on main Belfast to Dublin road could have resulted in huge devastation and loss of life
Dissident republicans who prepared a 500lb (227kg) van bomb risked causing an Omagh-style massacre, politicians in Northern Ireland have said.
Detectives believe the bomb, found at an underpass near the border on the main Belfast to Dublin road, may have been destined for a town centre attack.
29 people were killed and 220 were injured in a bomb attack in the centre of Omagh in August 1998.
While it is believed the presence of a police checkpoint forced the latest bombers to abandon the vehicle, hundreds of motorists drove past the device unaware of the danger after traffic cones and warning signs had been removed, and even driven over, by others on the road.
The blue Ford transit van, stolen in Maynooth outside Dublin in January and carrying false Donegal registration plates, was found near Newry and contained a wheelie bin packed with 500lbs of homemade explosives.
The foiled attack is being blamed on dissident republicans opposed to the peace process, who last Saturday killed constable Ronan Kerr in a booby-trap bomb in Omagh.
The device that killed the officer detonated not long after a fun run had passed the scene.Politicians have condemned the latest attempted bombing.
Policing Board member and DUP representative Jonathan Bell said: "500lbs of explosives were planted to kill and we could have had another example of mass murder on our hands today.
"Just as last week we had many children and families running past the explosive device that robbed our society of the life of a talented young officer, so today we could have had serious fatalities.
"As our police raise their activities commensurate with the threat they face, so we must give them our full support."
The van was found on Thursday night and was made safe during a lengthy overnight security operation.
Chief Superintendent Alasdair Robinson, commander for the area where the attack was uncovered, said poor warnings from the gang responsible had meant police only located the device after the van was spotted by a member of the public.
He said the exact target was unclear, but added: "What we do know is that we had a police operation in place that evening, so it is our belief that the van was being moved to another location, but it was thwarted by the police operation at the time."
He added that the bomb may have been destined for a landmark building or a town centre, and could have caused "huge devastation and loss of life".
"This was a sophisticated device and I am disappointed, particularly in a week where we buried one of our colleagues, that there are still people who feel that there is legitimate cause to take forward the use of violence," said the senior officer.
"The device itself was viable and it was a sophisticated device and it would have been devastating had it reached its destination."
He also issued a warning to people to observe police cordons after motorists removed or drove over traffic cones, causing hundreds of other unsuspecting vehicles to drive right through the bomb scene.
Source: Press Association