Ali Abdullah Saleh accuses Gulf states who have been meeting to discuss his fate of trying to mastermind 'coup'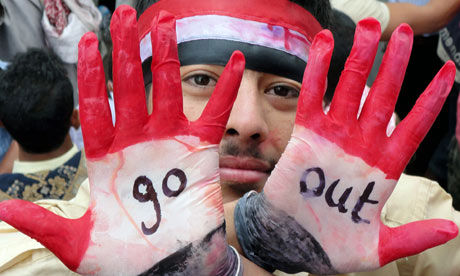 Hopes for a peaceful resolution to political turmoil were fading on Friday as President Ali Abdullah Saleh backed away from a plan being drawn up by Gulf states to broker an end to his 33-year rule.
Speaking at a rally of his supporters, Saleh lashed out at the Gulf states who have been meeting in Riyadh, Saudi Arabia, to discuss his fate. He accused them of trying to mastermind a "coup" against his country's democracy and of "blatant interference in Yemeni affairs".
Violent demonstrations continued, with three protesters killed in the city of Taiz, the commercial capital. Protesters carrying the bodies of five people killed earlier in the week to a graveyard came under fire from soldiers from the Republican Guard, an elite force headed by the president's son.
Plain-clothed men were seen crouching on nearby rooftops firing rifles and lobbing tear-gas canisters down on the protesters.
"We have three dead; they were all shot in the head or neck. Thirty others are in critical condition, we're in desperate need of bandages and morphine," said Fatima Al-Farsi, a 23-year old nurse working in a nearby field hospital.
In another part of the city protesters broke into a government building, dangling red banners out of the windows with Irhal, the Arabic for go out, written on them. In the past week at least 23 people have died in Taiz, a poor city four hours south of the capital Sana'a, where there have been many protests since unrest broke out earlier this year.
Earlier this week US officials discreetly shifted from supporting Saleh to admitting that his rule is "untenable". Now Saleh's backers of last resort, including his own tribe and aid donors such as Saudi Arabia are ushering him towards the exit.
Since protests began in Yemen in February, more than 120 people have been killed, and 5,000 wounded. The government has already lost control of three areas (al-Jouf, Abyan, and Saada), and large-scale demonstrations continue in fifteen of the country's eighteen governorates.
Saudi Arabia's call to host negotiations between Saleh's government and the opposition parties is being viewed with high levels of suspicion in Yemen. Ali al-Jaradi, a spokesperson of the al-Tagheer Square protesters, sharply criticised the Saudi role in the crisis. He mentioned in particular Riyadh's part in installing President Saleh in power in the first place, back in 1978.