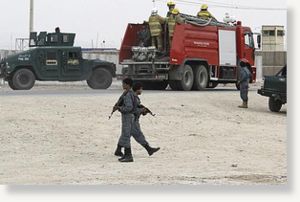 Suicide bombers and gunmen have stormed a police compound in southern Afghanistan, killing six members of the Afghan security forces.
Afghan officials say at least three insurgents attacked the complex in Kandahar province Thursday, waging a gun battle with security forces for several hours before being killed.
Witnesses say American Black Hawk Helicopters circled overhead and NATO armored vehicles responded to the assault, which killed members of the Afghan intelligence service, army and police. At least 12 people were wounded.
The Taliban claimed responsibility for the attack which took place near the main highway that connects Kandahar city with the Afghan capital, Kabul.
Also Thursday, NATO said coalition and Afghan troops killed an Afghan border policeman who shot and killed two American soldiers earlier this week in Maymana, the capital of northern Faryab province.
NATO says the joint operation in Faryab also led to the arrest of two insurgents.
A border policeman shot the two U.S. soldiers Monday, while U.S. military advisers were holding talks with an Afghan military commander.
In eastern Afghanistan, NATO said Thursday a joint force concluded operations in the Marawara district of Kunar province, after clearing out insurgents from several areas.
The coalition says NATO and Afghan troops moved into the area near the Pakistani border to disrupt insurgents and protect the local population. More than 80 militants were killed.
Source: The Associated Press/AFP/Reuters