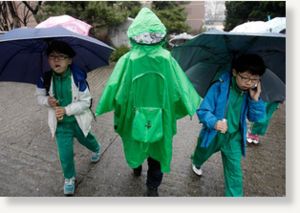 Dozens of schools in South Korea closed Thursday amid concerns about radioactive fallout from Japan's nuclear disaster.
Classes were canceled or shortened at more than 150 schools as rain fell across the country.
Authorities said radiation levels in the rain posed no health threat.
However, school boards across the country - Japan's closest neighbor - advised principals to use their discretion in scrapping outdoor activities to address concerns among parents, an education official said.
"We've sent out an official communication today that schools should try to refrain from outdoor activities," the official added.
Many Koreans donned face masks and streets near schools in Seoul were more congested than usual as parents drove children to work rather than let them walk.
"We are geographically closer to Japan than others like the United States or Europe," South Korean President Lee Myung-bak said. "People are bound to be more worried."
China's health ministry also said traces of radioactivity in spinach had been found in three provinces. Earlier this week, India banned Japanese food imports for three months.
Recent progress at the Fukushima Dai-ichi plant - which was damaged by a March 11 tsunami - appears to have slowed the release of radiation into the ocean. This week, technicians there plugged a crack that had been gushing contaminated water into the Pacific. Radiation levels in waters off the coast have fallen dramatically since then.
Operator Tokyo Electric Power Co (TEPCO) said the chances of a repeat of the gas explosions that ripped through two reactors in the first days of the disaster were "extremely small."
'Not out of the woods yet'
But as engineers battle multiple crises - some the result of efforts to try to cool reactors - officials admit it could take months to bring the reactors under control and years to clear up the toxic mess left behind at the plant 150 miles north of Tokyo.
"Data shows the reactors are in a stable condition, but we are not out of the woods yet," Chief Cabinet Secretary Yukio Edano told reporters.
The government has already set up a 12-mile exclusion zone around the plant, banned fishing along much of the northeast coast and set up evacuation centers for the tens of thousands forced to leave their homes following the crisis.
Nuclear safety experts have said that radiation leaking into the air and water from the crippled site do not pose a health threat outside the evacuation zone.
An estimated 28,000 people were killed or are missing following the disaster.