Tens of thousands demonstrate against President Ali Abdullah Saleh in the southern town a day after 15 people were killed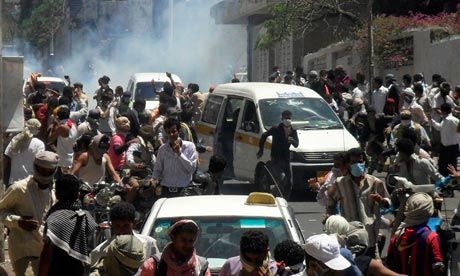 Fresh clashes have broken out in Taiz in southern Yemen as security forces and armed men in civilian clothes fired on protesters
a day after 15 people were killed
.
Witnesses told Reuters that several people had been hurt after hundreds of troops attacked tens of thousands of demonstrators. Men believed to be plainclothes police wielded bats and daggers as protesters responded by throwing rocks.
Al-Jazeera reported that hundreds of protesters were wounded in the clashes, with dozens taken to hospital in the capital, Sana'a, 120 miles away.
Amid continuing violence against the 32-year rule of the president, Ali Abdullah Saleh, the Gulf Co-operation Council, the regional security group, invited government and opposition representatives to talks in Saudi Arabia, at a date yet to be set. Abubakr al-Qirbi, the acting foreign minister after Saleh sacked his government two weeks ago, said the government would agree to talks in Riyadh. "We welcome the GCC invitation and the government is ready to discuss any ideas from our Gulf brothers to solve the crisis," Qirbi said.
Leaders from core political opposition groups, however, said they would only answer when they received details of the proposed talks. Amid mounting diplomatic efforts to end the turmoil that has engulfed Yemen since February, US officials said Washington was increasing the pressure on Saleh to work out a transition plan with the opposition.
"It looks increasingly like he needs to step aside," one US official told Reuters, saying the US was trying to "turn up the heat" on Saleh to come to terms with the opposition.
The Yemeni parties issued a statement late on Monday saying Saleh, his sons and relatives, as well as security and military apparatuses they control, are carrying out planned attacks against peaceful demonstrations with the intent to kill. Analysts said any deal would have to satisfy different layers within the opposition.
"There are elements within the regime which is split, the established parliamentary opposition and there are the protesters," said Ginny Hill, a Yemen expert with the Chatham House thinktank in London. "Any discussion would have to engage with all three levels."
More than 120 people have been killed and 5,000 injured since the protests started in early February, inspired by the popular uprisings in Tunisia and Egypt.
The turmoil in Yemen has led to a hardening of attitudes in the US, which now sees Saleh as a liability rather than a useful ally against al-Qaida in the Arabian Peninsula, the group's affiliate.
The New York Times reported that counter-terrorism operations in Yemen had ground to a halt
, allowing al-Qaida's deadliest branch outside Pakistan to operate more freely and to step up efforts for possible attacks against Europe and the US.
According to the Times, many Yemeni troops have abandoned their posts or have been called back to the capital, Sana'a, to shore up the regime, allowing al-Qaida forces to fill the power vacuum.
Even before Yemen sank into the latest round of instability in February, the country was fragmenting, said Hill. "That process is accelerating," she said.