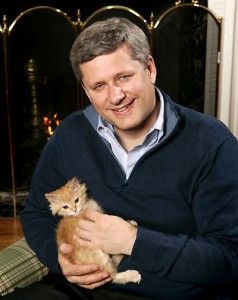 Fourth election in seven years will take place in May after opposition parties bring down Stephen Harper government
Canadian opposition parties have brought down the government of Stephen Harper in a vote of no confidence, triggering an election that polls suggest will reinstate the status quo of minority rule by his Conservative party.
The opposition parties held the prime minister in contempt of parliament in a 156-145 vote for failing to disclose the full financial details of his tougher crime legislation, corporate tax cuts and plans to purchase stealth fighter jets.
Opinion polls expect Harper's Conservative party to be re-elected but not with a majority, meaning he could only continue governing dependent on opposition votes.
The opposition parties combined hold the majority of the seats in parliament with 160 while the Conservatives have 143. There is a chance the left-of-centre parties might join forces in a coalition if Harper wins another minority government on the expected election date of 2 May.
On Saturday Harper will ask the governor general, David Johnston, to call Canada's fourth election in seven years.
"The vote today, which obviously disappoints, will I suspect disappoint most Canadians," Harper said.
Harper might be gambling that an election will confound conventional wisdom and hand him the majority in parliament that has eluded him through his five years as prime minister. He is counting on the economy to help him win re-election.
Canada has outperformed other major industrialised democracies through the financial crisis, recovering almost all jobs lost during the recession while its banking sector remains intact. It avoided a property crash and most economists expect 2010 growth to come in at 3%.
"By forcing an unnecessary election in this time of fragile economic recovery, Michael Ignatieff and his coalition partners are irresponsibly and recklessly putting at risk Canadians' jobs, our economy and stable government," Harper said.
The opposition tried to form a coalition before, after Harper won minority re-election in 2008. But before he could be defeated in a no confidence vote Harper shut down parliament for three months and successfully whipped up public opposition against the coalition. The Conservatives accused the Liberals of treason for uniting with the Bloc Quebecois, a party that seeks independence for Canada's French-speaking province of Quebec.
Harper's government is once again trying to marshal public sentiment against a possible coalition government. His underlings have attacked the opposition with accusations they will try to form a coalition if another minority Conservative government is the result of the election.
The Conservatives are noting that the Liberal leader, Michael Ignatieff, will not rule out forming a coalition government with the other opposition parties.
Opposition New Democrat leader Jack Layton has said he will not rule out forming a coalition with Ignatieff.
Ignatieff took over the Liberal party in December 2008 and the election will be his first up against Harper. Ignatieff, 63, is one of Canada's leading intellectuals: an author, historian and TV panel regular in Britain before going into politics.
Harper, 51, is a career politician who has spent the last five years emphasising a more conservative Canadian identity and moving Canada incrementally to the right. He has gradually lowered sales and corporate taxes, increased spending on the military and made Arctic sovereignty a priority.
He has called Canada an emerging "energy super power" in reference to Alberta's oil sands deposits, the second-largest oil reserves in the world, and has avoided enacting environmental legislation that would hurt the sector.
In foreign policy he has extended Canada's role in Afghanistan and been a staunch ally of Israel's rightwing government.
While the Conservatives will try to scare Canadians with coalition talk, the opposition will try to keep the focus on the government's recent ethical issues. The Liberals were originally going to bring down the government over corporate tax cuts and spending billions in new fighter jets, but recent ethical issues helped them make inroads in painting Harper as an autocrat who shuts parliament when it suits him.
Last week Harper asked police to look into the activities of Bruce Carson, a key former aide. Carson, 66, is accused of using the access he had to senior members of the government to lobby on behalf of a company affiliated with his 22-year-old fiancee, a former escort.
The opposition parties were also united against Harper's latest budget plan but wanted to defeat the government over allegations it is in contempt of parliament.
"There are only two alternatives here. More of this disrespect for democracy, more of this contempt for the Canadian people, or a compassionate, responsible Liberal government," Ignatieff said.
Harper is a centre-right prime minister in a traditionally liberal country, and his plan to cut corporate tax rates has given the opposition, led by the left-leaning Liberals, an opening to argue that Canada is running a record deficit that will only worsen if taxes are cut.
Opposition parties are hammering the prime minister for planning to spend at least Cdn$16bn (£10bn) on 65 American-made F-35 joint strike fighter planes, one of the biggest military purchases in Canadian history.
Source: The Associated Press