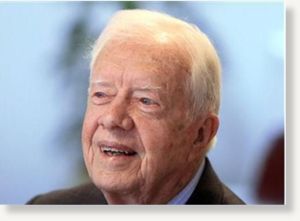 Former President Jimmy Carter and wife Rosalynn will visit Cuba next week to meet with President Raul Castro and discuss ways to improve U.S.-Cuba relations, a Carter spokeswoman said on Friday.
The visit, made at the invitation of the Cuban government, raised the possibility that Carter would get involved in the case of U.S. aid contractor Alan Gross, recently sentenced to 15 years in prison for providing illegal Internet access to Cuban groups.
The case has strained U.S.-Cuba relations after a brief warming under President Barack Obama.
Carter, 86, was to arrive in Havana on Monday for a three-day trip "to learn about new economic policies and the upcoming (Communist) Party congress and to discuss ways to improve U.S.-Cuba relations," said a statement from Carter spokeswoman Deanna Congileo.
He was to meet with President Castro and "other Cuban officials and citizens," the statement said.
It said the trip was a follow-up to the Carters' May 2002 visit to the island 90 miles from Florida and was a "private, non-governmental mission under the auspices of the not-for-profit Carter Center."
Carter is set to go to North Korea soon, where last year he went to secure the release of a jailed American.
During his time in the White House, Carter took significant steps to improve relations with Cuba, including lifting all restrictions on U.S. travel to the island, which has been generally banned during most of a 49-year-long U.S. trade embargo.
Boat People
But Cuba ultimately added to his re-election woes when the Cuban government, then led by Fidel Castro, allowed 125,000 boat people to flee to the United States in 1980 in the Mariel boatlift.
Carter lost to Ronald Reagan in his bid that year for a second four-year term. Under Reagan, travel restrictions to Cuba were reinstated.
In his 2002 visit, Carter called for an end to the U.S. embargo against Cuba, but also said Cuba must have democracy and improved human rights.
There have been persistent rumors that Carter would step into the Gross case to seek his freedom and help remove a major obstacle to progress in U.S.-Cuba relations.
Gross, 61, has been jailed in Havana since December 2009 for his work in a U.S.-funded program promoting political change in Cuba.
Cuba views the program as part of longstanding U.S. efforts to undermine the government.
After a two-day trial in the Cuban capital, a panel of judges sentenced him to 15 years in jail for "acts against the independence and territorial integrity of the state."
Washington has said there will be no major attempts to improve relations with Cuba as long as Gross is held.
His wife, Judy Gross, has pleaded for his release on humanitarian grounds because both their 26-year-old daughter and his 88-year-old mother have cancer.