With the government unwilling to amend its budget, all three opposition leaders said they are prepared to defeat Prime Minister Stephen Harper's minority government on a motion of non-confidence Friday.
Liberal Leader Michael Ignatieff said Wednesday his party was giving notice it would introduce the motion. NDP Leader Jack Layton and Bloc Québécois Leader Gilles Duceppe both said they would support it.
Ignatieff said Harper has shown a "flagrant disregard" for democracy and failed on its economic agenda, and as a result, "the moment has come" for Canadians to make a choice between the Liberals and Conservatives.
Following a busy morning of the Prime Minister Stephen Harper and all three opposition leaders speaking to the media about their intentions over the coming days, the Conservatives and opposition parties squared off over the budget and other matters during a lively question period.
Foreign Affairs Minister Lawrence Cannon was particularly fired up as he fought back against Duceppe's accusations the Conservatives haven't done enough for Quebec.
Layton said the government's budget sucked more out of the economy than it put back in, and put corporate interests ahead of those of Canadians. Flaherty defended his budget and echoed Harper's comments made earlier in the day that he believes the opposition leaders didn't even read the document.
The Liberal motion that is scheduled for a vote Friday calls on MPs to agree with the findings of a committee report released Monday that found the Conservatives in contempt of Parliament for not supplying sufficient information on cost estimates for crime bills, the F-35 fighter jet procurement and corporate tax cuts and that as a result of that finding, the Commons has lost confidence in the government.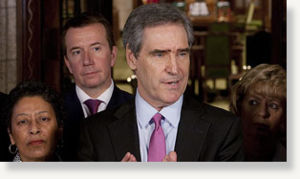 Ignatieff said the motion is focused on the contempt issue but that the Liberals also reject the government's management of the economy and its spending choices, and he expects that to be a main issue in an election campaign, which could be begin as early as Saturday if the government is defeated Friday.
"This government has lost the confidence of the House of Commons of Canada on its economic agenda, that's what happened," said Ignatieff, surrounded by MPs from his caucus in the foyer of the House of Commons. "We will fight them on the economy and we will win on the economy."
Following Ignatieff's announcement, NDP Leader Jack Layton said he's still open to working with the government on passing the budget, but that Harper has rejected his offer.
If the prime minister wants to avoid an election, as he says he does, Harper would be willing to talk to him about amendments to the budget, the NDP leader suggested.
Government Cool on Change
Harper and Flaherty have rejected the idea of making changes to its fiscal plan.
"I don't know why. What's the big obstacle to that?" Layton said. He said he thinks Canadians would prefer to see the parties cooperate, but if Harper "simply wants to slam the door on the notion of working together" his party will support the Liberal motion on Friday.
Bloc Leader Gilles Duceppe told reporters his party would help bring down the Harper government at the earliest opportunity.
Before the three opposition leaders all spoke, Harper defended his government's budget and said the opposition parties did not give it a chance.
"I'm disappointed (the other leaders) didn't take the time to read the budget before they rushed to their conclusions," Harper said.
He urged them to reconsider their positions and support the budget instead of forcing "an unnecessary" election.
"It is not too late for them to step back, to think about the fragile global recovery and to listen to the strong support of the many organizations and the Canadian public for these measures," he said.
The prime minister highlighted some of the budget measures he said the opposition parties would "toss away" if they pull the plug on the government, including a range of tax credits for volunteer firefighters, caregivers and children's arts programs as well as initiatives to create jobs and further the country's economic recovery.
If the government loses a vote of a non-confidence on Friday, the prime minister is prepared to head to Rideau Hall on Saturday to ask Gov. Gen. David Johnston to disolve Parliament and issue a writ of election, CBC News has learned. An election campaign would begin immediately, with a likely election date of Monday, May 2.
Asked Wednesday whether he would pre-empt a non-confidence motion by the Liberals by going to the Governor General himself, Harper said, "Our priority is the economy and we'll continue... as long as we're in office."
When a campaign is launched, the opposition parties will be forced to answer questions on whether they would be willing to form a coalition, should an election return Harper to power with another minority government. They were also asked about it on Wednesday.
Ignatieff avoided answering the question directly. "There's a blue (Conserverative) door and there's a red (Liberal) door and we'll form a Liberal government. Is that clear enough for you?" was Ignatieff's response.
Layton said he fully expects "fear-mongering" from Harper about a coalition during a campaign and he said he'd be sure to remind Canadians that Harper himself instigated talks with the Bloc Quebecois and the NDP when he was opposition leader and Paul Martin had just been elected Liberal prime minister.
Layton said he has always reached out to other parties to try to get his party's ideas implemented, and he will continue to do that. "We'll sit down and talk to the other parties to see what the best way of moving forward, the proposals that we made to Canadians during the campaign, and we'll seek some way to work with the other parties," said Layton. "So we are not rejecting any approach in terms of resolving those issues."
The NDP leader, who has cancer and is recovering from hip surgery, said his doctors are "happy with how things are going."
"The opposition parties have a choice between two priorities: their ambition for an unnecessary election or our important measures to support Canadians and the economy," said Harper.