Lake Wales, Florida - A mayoral candidate in Lakes Wales is speaking out about his involvement with the Klan.
70-year-old John Paul Rogers wants to become the next mayor of Lake Wales, but critics say he could have a tough time bringing the town together because he's a
former member of Ku Klux Klan
.
Rogers, who is currently a commissioner, spoke with 10 News Tuesday afternoon and says, "I'm not running for the Klan for Grand Dragon." That's because Rogers has already had that title.
Photo Gallery:
Pictures of a 1977 KG rally in Tallahassee
(photos courtesy State Library Archives of Florida)
He blames his opponent Mike Carter for bringing up his former involvement in the United Klans of America.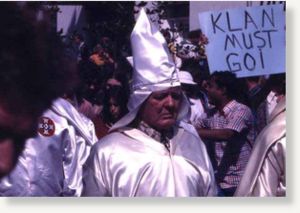 "My opponent's been going around saying I hung somebody in the park two years ago. Well, we have a city ordinance against that and I'm sure the police would have put me in jail if I would have done that."
He adds, "It's a shame that in a small city like Lake Wales where most everyone knows one another you have this kind of muckraking and character assassination."
In this small town of a little more than 13,000 people, times have changed since the Jim Crow laws of segregation and Rogers isn't apologizing or renouncing his time with the Klan.
He says, "Well I resigned years ago, about 30 years ago. Jesus said, 'He who is without sin, let him cast the first stone,' and so far no one's hit me with a rock. I don't know of any act of any violence that was sanctioned by our organization, either national or in Florida."
But Darryl Paulson, a USF professor, who is an expert in the Klan, points to a case in which two Klansman with the United Klans of America were convicted of attacking 19-year-old Michael Donald in 1981 in Mobile, Alabama. Donald was beaten up and his throat was cut.
Paulson says, "They hung him from a tree and they were sued in court and the civil judgment was launched against the United Klans of America. The jury awarded a six million dollar settlement to the mother of the slain child."
Click here
to learn more about the civil case.
He adds, "When Rogers says he resigned. He had no other choice. The United Klans couldn't pay off the six million dollar settlement but they lost their headquarters. Their headquarters was sold as part of the judgement so in essence they were forced out of business. They were financially bankrupt."
Paulson says, "I think that they were the most violent of the Klan organizations. I think their fingerprints are on a lot of different things that happened - most of them negative with respect to racial incidents during the 1950's and 1960's. Rogers had to know there was no way he couldn't know it."
Rogers says, "I'm very fair minded. I work good with people and no one can point to me ever disrespecting anyone or violating anyone's rights."
Voters will make the final decision when they cast their votes in the non-partisan mayoral race on April 5. Though party affiliation is not a factor in the race Rogers and Carter are both Democrats.