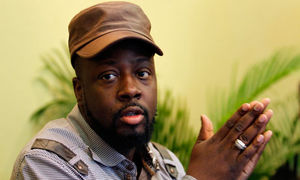 Hip-hop star suffered wound to his hand while campaigning for one of the contenders in Sunday's presidential vote
Hip-hop star Wyclef Jean has received a gunshot wound to the hand while
campaigning for a fellow performer who is running for president in Haiti
.
The shooting happened in the Delmas area near the capital of Port-au-Prince on Saturday night, said Joe Mignon, senior programme director for Jean's Yele Foundation. Jean was treated at a hospital and later released, Mignon said.
Jean, a native of Haiti who rocketed to fame as a member of the hip-hop trio the Fugees, is in his home country to support fellow musician and friend Michel "Sweet Micky" Martelly, who is contesting a run-off vote taking place on Sunday against former first lady Mirlande Manigat.
Last week, Jean participated in a Martelly campaign concert in Port-au-Prince.