Opposition says compromise no longer possible; 3 children reportedly among the dead
Sanaa, Yemen - Yemeni security forces firing from rooftops and houses shot at tens of thousands of anti-government demonstrators, killing at least 31 - including three children - and wounding 200 others, as the protesters entered a downtown square in the capital to demand the ouster of their autocratic president.
Hours after the crackdown - the largest yet in the popular uprising - President Ali Abdullah Saleh declared a nationwide state of emergency. The leader said the decision was made by the country's Highest Defense Council, but there was no immediate word on how long the emergency laws would be in place.
In response to the assault, Yemen's opposition said there was no longer any way to reach a mutual understanding with the government.
"We condemn these crimes," said Yassin Noman, rotating president of Yemen's umbrella opposition group, asking President Ali Abdullah Saleh to step aside.
"There is no longer any possibility of mutual understanding with this regime and he has not choice but to surrender authority to the people."
Friday's violence is the harshest response yet from Saleh, a key - if uneasy - ally in the U.S. campaign against al-Qaida who has ruled Yemen for 30 years.
'Situation is tragic'
Thousands also rallied Friday in the cities of Taiz and Adan, their protests inspired by the unrest across the Arab world that toppled rulers in Egypt and Tunisia. But the government
Demonstrators have camped out in squares across Yemen for over a month to demand that Saleh leave office. Security forces and pro-government thugs have used live fire, rubber bullets, tear gas, sticks, knives and rocks to suppress them. The protesters say they won't go until Saleh does.
Saleh has promised to step down in 2013 and offered a new constitution giving more powers to parliament, but he has refused his critics' main demand to quit immediately.
Before the shootings Friday in Sanaa, a military helicopter flew low over the square as protesters arrived from prayers. Thick gunfire soon erupted from rooftops and houses near one of the square's main entrances, sending protesters scrambling for cover.
"The situation is tragic. There are dozens killed and hundreds wounded. We couldn't send relief," said Abdul-Qawi al-Shumeiri, secretary-general of the doctor's syndicate.
"The youth stormed one of the buildings and arrested seven snipers who were firing on the demonstrators," said activist Mohamed al-Sharaby.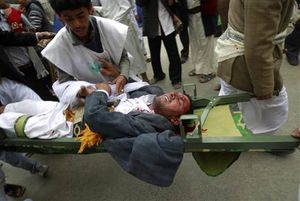 A medic helps an injured anti-government protester in Sanaa, Yemen, on Friday. Doctors confirmed that of the dead, at least three are children.
Children among the dead
Doctors at the makeshift field hospital near the protest camp at Sanaa University confirmed at least 31 dead, three of them children, to the
Associated Press
. They spoke on condition of anonymity because they were not authorized to speak to the media.
The protests are just one of the issues facing this extremely poor, tribal country. Saleh's weak central government also is dealing with one of the world's most active al-Qaida branches, a secessionist rebellion in the south and a Shiite uprising in the north.
A string of Saleh's allies have recently defected to the protesters, who are frustrated by rampant corruption and soaring unemployment. Some
40 percent of the population live on $2 a day or less in Yemen, and a third face chronic hunger
.
The Associated Press and Reuters contributed to this report.